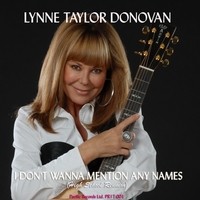 Out of all of the genres in existence this one may be a first for me, as it has never come across me before. This one is known in short as AC but stands for Adult Contemporary Music, which means that it is a form of music played on the radio, that tends to be in the popular range. Perhaps within the vocal and soft rock or pop genres a lot of the time, if not the country or country rock aspect. Whatever the case, Lynne Taylor Donovan has written and recorded a new song turned single called "I Don't Wanna Mention Any Names". Which is being played upon the radio, currently placing number 14 on the U.K. Charts, as well as having some play time upon the Los Angeles market radio stations. If you aren't a radio person then there is always online radio such as Skope radio from Boston that is even playing the song as well.
In regards to the song itself though, "I Don't Wanna Mention Any Names", is one of those AC tracks, having that soft rock tone to it, with a tiny trance of country elements within. The country aspect of the song is probably within the vocal chords provided by Lynne Taylor Donovan, her vocal ranges are ear popping, as she is able to swing along with the music, having it work with her tone of range. Whereas the instrumental approach with this song is more easy going, and even easy listening to the ear or listener in question. The song becomes one of those rather enjoyable tracks that can be heard again and again.
Now as far as her style, which is AC, country, country rock based, her vocal chords and music style sounds slightly similar to that of other artists like Sheryl Crow or even Shania Twain perhaps. Both their styles may be out of the range that is Lynne's style but the trio does sound a lot alike in some points. All three women having their own uniqueness and creativity within, as each of their vocal ranges sounds in-depth and has tons of feeling and emotion to it.
That is what Lynne Taylor Donovan does well with her music. Just is able to creative material that is so emotionally driven that makes the music flow smoothly. When listening to the song a handful of times it made me think it was a jazz or even smooth jazz song at times, because of the melodies used throughout. But in reality it was not one of those types of songs. It may have a style in similar fashion to those types of songs, but it is more AC and country based that makes Lynne's style more interesting on its own.
"I Don't Wanna Mention Any Names", is a song by an artist, that is coming out of her shell, has her skills and mind set, with the ability to create music that is catching to the ear, that she can repeat it more than once with ease.
http://www.lynnetaylordonovan.com/
By: Natalie Perez – www.nataliezworld.com – natalieannnperez@gmail.com