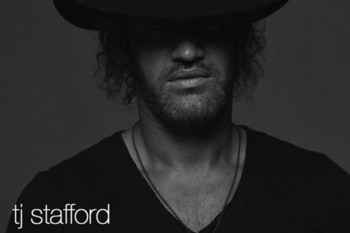 TJ Stafford gets sinister with his dark debut single, "Crazy." A Los Angeles-based songwriter, Stafford performed in various bands before finally stepping out on his own, saying "being a musician for most of my life, not making an album that was just me, with the exact words I wanted to say, and the exact sounds that fit those words, would have been an unimaginable regret."
The songwriter has a long history of success with sync placements that included AMC's The Walking Dead, HBO's True Blood, NBC's Parenthood, and FX's Sons of Anarchy. While his music filtered through various television shows, his live performance has led to sold out shows at famous L.A. venues like The Roxy, The Troubadour, and the House of Blues. His track Shoot First recently won the Production Music Award for Best Rock Song. His music is a mixed bag of alternative rock fused with blues and pop influences that fearlessly explores the darker side of human nature.
On his debut single, "Crazy," TJ relies on the power of his intense presence. His voice howls across the growing darkness, as pounding percussion and an atmospheric air of uncertainty create a visceral feel. Aching guitar burns alongside a languid, hypnotic melody until it explodes with aggression. It's the perfect introduction to a songwriter insistent on exploring the parts of himself that others keep buried deep down inside. Be sure to check out TJ Stafford's debut track, "Crazy" released by Saint Rogue Record.