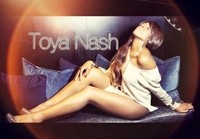 Sultry and seductive, Toya Nash's "Paradise" explores a truly sensual sound. Over the course of the song the true heart and soul comes from Toya Nash's expressive passionate vocals. By opting for a rich vibrant sound the song absolutely immerses the listener into a glorious sea of sound. The arrangement works to further emphasize this intimacy that pours out of the song. Lyrics focus on what closeness can do for a person, on how important it is to truly be with someone. With a wide variety of genres woven together from pop to RnB, the song glides by with a true sense of connection.
From far off percussive elements waft into the mix. Bass hits and it hits hard. Vocals come into focus quite quickly. The commanding nature of the song's lyrics add to its overall appeal, as Toya Nash says what to do it gives off the appearance of someone confident who truly knows what they want. Choosing such a style means that the song's many layers interact in fantastic ways, creating a true sense of joy. Slowly but surely the song grows in scope becoming ever more powerful. Anchored by a memorable melody and soothing groove, the song becomes a true snapshot of what it means to give oneself up to another. Deserving to be played as loudly as possible, the piece is simply stunning.
Toya Nash sculpts a beautiful, neon-hued pop perfection on the infinite soothing and lovely "Paradise".
By – beachsloth.com