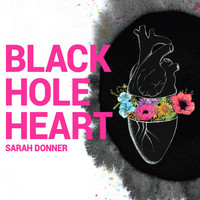 Some people make art of their lives and mediums like music are just a manifestation of that. Sarah Donner is such a person. This independent singer/songwriter initiated the recording of the album Black Hole Heart on the backs of $14,000 plus in donation she received from fans willing to place faith in her vision. The stripped down musical approach of the project smacks of pure Americana, but she has an eclectic songwriting spirit that genres can't confine. The dozen songs on this release aren't afraid of taking risks with traditional forms and her lyrical inventions have an uniquely personal flair that never risks imitation. Donner's prodigious talents crackle throughout this release and benefit immensely from a sonic tradition that never takes shortcuts or wreathes these excellent songs in unnecessary production touches. Her material is recorded with every bit of the same honesty that it's been conceived with and the concept of writing an album about natural disasters and how we respond to such events as individuals is a worthwhile endeavor that pays off.
The album's first single and lead off track "Phoenix" is an incredibly stylish number that never goes in for the cheap turns in invoking its theme. Donner expresses herself with all the artful aplomb you can hope for because she keeps things pared to the bone – when you have a compelling and resonant image like the phoenix, it behooves songwriters to keep that image under control and use it to best possible effect. She delivers the lyric with cool style and easy sophistication while keeping things very accessible. The second track and title song "Black Hole Heart" has a little bit more of a pop sensibility than the opener. The added theatrical touches, while colorful, are never overwrought. It has a great build and climaxes in all the best ways while still retaining a touch of unpredictability. The narrative-based "Tamsen Donner 1847" has a nice musical uplift despite the inherent gloom of her storytelling. Managing to tackle such fraught fare while still investing the musical arrangement and vocal with considerable beauty is a great achievement.
"The Flood" is one of the album's cleverest tracks – both lyrically and musically. It doesn't become apparent until the song's end what Donner's subject is, but getting there is wildly entertaining. Her penchant for telling imagery gets another workout on the song "Albatross". Themes of flight, escape, and rebirth run through the album's songs and this acoustic framed outing ranks among the best on Black Hole Heart. Everything and everyone is enduring sudden changes in Donner's writing for this release. "All the Things" has some of the same pop strengths as earlier tracks, but her silky smooth vocal presentation is a big reason why these moments get over so well. The haunted closer "Sol 549" is the album's best example of how well Donner combines the macro and micro. Many of the songs on Black Hole are, nominally, about others but they end up, by their conclusion, saying much more about the artist behind their composition. This is a profoundly moving album from beginning to end and will enchant listeners with its wide-ranging emotional depths.
Website: https://www.sarahdonner.com
Facebook: https://www.facebook.com/sarahdonner/?hc_ref=SEARCH&fref=nf
Twitter: https://twitter.com/sarahdonner?lang=en
Written by: Jason Hillenburg
9 out of 10 stars