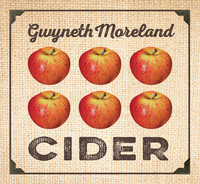 There's a rich lineage of Americana music informing Gwyneth Moreland's release Cider. The influence of artists like Sonny Terry & Brownie McGhee, Joan Baez, Gillian Welch, and Bob Dylan run through the album's entirety while she's accompanied by stellar players like pedal steel guitarist Gene Parsons whose list of credits includes The Byrds and The Flying Burrito Brothers – among others. The ten song collection never sounds imitative, however, and instead illustrates how successfully she filters those aforementioned influences through her experiences and personal artistry. The release is devoted to Moreland's originals and she proves to have an individualistic and idiosyncratic voice reaching far past the ken of typical folk acts. This music is, in her hands, not some beautifully ornate butterfly to be pinned beneath glass – instead, she brings traditional elements firmly into a modern context and it makes for one of 2017's greatest listening experiences.
URL: http://www.gwynethmoreland.com/
"Movin' On" is powered by a slow, lazy shuffle and gentle acoustic instrumentation. The percussion has a lightly brushing effect and punctuating the arrangement with occasional flashes of harmonica adds just the right amount of extra color. Moreland's voice is accompanied by some occasional backing vocals, but she largely glides solo through equally relaxed and easy going verses – the clarity of her voice is a minor marvel and she works magic with a beautifully wrought vocal melody. The album's second song, "Broken Road", features some of Ralph Humprey's tasteful swing on drums. While the song is never specifically downbeat, there's certainly a light melancholy edge shaping the song in significant ways. She never fails, however, to treat it with singular grace and emotion.
Some of that same melancholy makes its way into the track "Eloise". The recurrent and artfully ominous bass pulse resounding throughout the song gives it much of that sound, but Moreland's vocals and the understated instrumentation contribute a lot to it as well. She certainly references longstanding folk traditions in her songwriting, but it never sounds dated thanks to her ability for pushing a distinct point of view. Gene Parsons guests on banjo during the song "The California Zephyr" and his skills on the instrument make for a great addition to an already fine track. This also ranks as one of Moreland's best vocals on the album and she throws herself into the fine lyric with uncommon zest. "Danny Parker", the album's third single, has an older feel than the other material in some way and the focus she brings to the lyrical content makes this, truly, one of the best moments on Cider.
The album's title song is highlighted by Parsons' pedal steel contributions, but Moreland matches them with one of her more nuanced, yet command, turns as a singer. The song builds with the same extraordinary patience defining the earlier tracks and stands as another of the album's peak moments. Gwyneth Moreland has written and recorded a collection with lasting value. This collection has colossal emotional and musical value and Moreland comes out of this as an artist with boundless promise for years to come.
9 out of 10 stars
FACEBOOK: https://www.facebook.com/Gwyneth-Moreland-music-570007159751685/
Jason Hillenburg