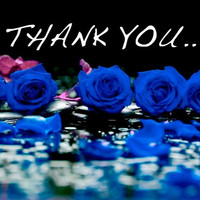 JRS3's previous track "3 Cars 3 Bitches", was one that needed some touch ups to make it really bounce out. For this other track of his he calls "Thank You", this song really stands out, not even having it sound anything like JRS3 at all. The genre choice is still there which is hip hop but the vocal chords and instruments sound nothing like "3 Cars 3 Bitches" not by a long shot at that.
"Thank You", takes the hip hop direction with the added effect of r&b with some smooth jazz elements slightly tossed in for good measure. The song is that good at adding all of these elements that it ends up working really well. Now for those who may be interested or perhaps not, JRS3 has thrown in some religion and spirituality material in here, as the song's lyrical context is filled with this material from front to back. This showing the true being of who JRS3 really is and what formula he has going for him. It shows and makes the song more interesting to the ear and listener.
As a matter of face, JRS3 says "A GOD sent track love and spiritually uplifting feeling giving to you when you need it the most." This expression is what his music and this track in particular is all about. It's about those changes and experiences that come to you and within your lifestyle. JRS3 engulfs all of that if not more so, and really takes a hold of it and lets it speak through him, as the music flows around him, having it work together as a whole.
That is the one positive thing about JRS3 is his lyrical content and context, he is able to put words together so well, that adding the music into it, makes it work. There is no other way to place it, but that it just works so well. It makes this song "Thank You", work really well. Having listening to it more than once for this piece, made it more enjoyable for me as a critic.
Now not saying that JRS3 is going to be in my top favorites list just yet but he is of interest as far as being an artist. He has style and it works well for him, and his style brings to mind that of Nelly, R Kelly, and again Ludacris. Those artists style is the style that I think JRS3 is trying to create, except have a more modern day feel for it. Like if not perhaps have a more modern day escape, if you will….
"Thank You", is one of those songs that is interesting and rather enjoyable to hear. It would likely work well played on radio stations as opposed to night clubs. This song is more of that laid back, candle lit environment type of song, than one you would hear at a loud impacted type of place of environment.
In close, JRS3 is an artist that is one to keep an eye out for, and with songs like this one, he will be going places. His other works tend to be a hit or miss but if he sticks to this format, he will be noticed instantly if not quicker than that even.
By: Natalie Perez – www.nataliezworld.com – natalieannnperez@gmail.com