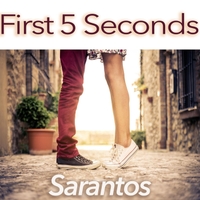 The happiness and joy of infatuation is captured with great care by Sarantos on "First 5 Seconds". With a catchy melody and laid-back groove the song works wonders. Sunny to its very core the light of the song is undeniable. Representing a classic take on the pop sound Sarantos incorporates a strong sense of play throughout the song. By taking such an approach the way the song unfolds gives it true life. Lyrically the song has a warm intimate feel to it as it describes the tropes of pop music and then goes to skew them ever so slightly.
Not a moment is wasted as Sarantos delves right into the sound. Piano comes in to further emphasize the giddy nature of the track. Featuring a swinging rhythm, the song rocks back and forth with the greatest of ease. Almost dreamy at times, the way the piece focuses on interactions between people gives it a communal feeling. Slowly but surely the piece grows and grow into a lush triumphant sound. Everything about the song is downright cheery, from the rich sound that neatly incorporates organ, piano, guitar, with a jazz-influenced drumming to the heart of the track, Sarantos' vocals. Towards the final stretch of the piece Sarantos lets the song become truly carefree as the many layers of sound come together in a most blissful way.
Buy: https://itunes.apple.com/us/album/first-5-seconds-single/id1222448536
Sarantos delivers a smart, funny, and lovely pop song on the infinitely optimistic sound of "First 5 Seconds".
By – beachsloth.com