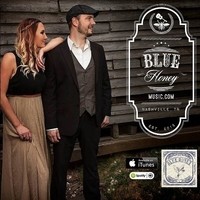 Sung with true grit, Blue Honey does Americana great justice. Throughout the two songs Blue Honey opts for a stripped-down, straightforward approach. Vocals sound as if these are more than words, that these are experiences being conveyed to the listener with the utmost importance placed on honesty. By choosing this approach Blue Honey ensures that they can touch upon authenticity with their rich intimate style.
Coming into view is the delicate arrangement of "Hurts Just The Same". Passionately played guitar adds to the overall spirit of the piece. When the percussion comes in the way that the song touches the soul feels real. Together the two vocalists work in unison to reveal a life lived hard. Storytelling is done with the greatest of grace for the two prove to be exemplary in how they let the song grow in richness. Fiddle and piano add to the emotional impact of the piece, the two instruments tapping into the hurt displayed by the lyricism. For the finale of the track the vocalist work together to create a fiery finale. Much kinder and dreamier in tone is the tension-fueled work of "Angels Come Home". Quite gentle in demeanor the song has a welcoming disposition one that rings true over the course of the piece. Fast tempos result in the driving spirit of the song coming home for its lovely sweetened stretch.
http://www.bluehoneymusic.com/
With their two pieces, Blue Honey crafts a sound full of color and full of life.
By – beachsloth.com