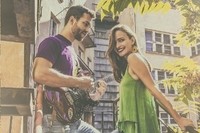 Two Cities One World delivers a breezy beautiful 70s lounge style on the infinitely blissful "Let the Whole World Disappear". Sunny with a light touch, the songs have a honeyed quality to them. Best taken in a single listen, Two Cities One World effortlessly blends together a wide variety of genres into a singular powerful sound from funk to jazz to a nod to classic rock, everything works. Optimism guides the way for the way that the songs unfold gives it a rather playful quality. By far the heart of the album rests with the soulful emotive vocals that grace the entirety of the album.
Easily the highlight of the album is the stunning opener "I See the Sun". With a timeless joyful quality, the song is a true wonder to behold, from the thoughtful lyricism to the careful keyboards that adorn the sound. Much more energetic is the easy funk of "Suga Daddy". Layer upon layer of sound creates a swirling sea of happiness on the celebratory "Love Blues". Presenting a gliding groove is the infinitely catchy dream of "Disappear" with the horns adding to the overall temperament of the piece. "Honey Sweet Voice" takes an even more leisurely approach. Ending the album off on a jazzy note is the nimble "Let Me Know" where the organ's expressiveness neatly meshes with the angelic choir.
https://www.facebook.com/twocitiesoneworld
On "Let the Whole World Disappear" Two Cities One World chooses a glimmering sound one that provides great hope.
By – beachsloth.com