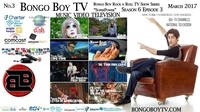 Bongo Boy TV Season 6 Ep3NAT – SuperPower premiered on Channel 29 in Portland, OR. on 2.17.17 and follows it heavy TV rotation on all 66+ Terrestrial TV Channels through March.
A spacious classic rock ballad emerges on Anana Kaye's "Carolina". Vocals lead the song forward featuring a poetic delivery. Nicely framing this is a laid-back, jazz-infused rhythm. Guitar and piano come together to give the song a hazy, dreamy feeling.
Delving into a mellow pop party atmosphere is RI Emeline's "Angel". Rather blissful the song neatly merges elements of RnB and dance into a satisfying whole. Lyrics focus on a true lust for life.
Volume is an absolute must for the freewheeling sound of Tyler Colt's "Come Home". With a driving rhythm, the way the song builds up feels downright infectious. The rather hopeful sound works to inform the piece and its message of devotion to others.
Waheed Ahmad unleashes a fierce flow on the funky "Boom!". A rather stylish groove anchors the piece as Waheed Ahmad's delivery is unsurpassed. Quite exuberant the way the song glides by gives it a majestic sheen.
The 90s-alt rock style for Jeff Rosenstock's "Pash Rash" feels honest. Distortion gives the song a wonderful intimate feeling to it, at times feeling akin to an updated cleaned up Guided by Voices vibe. Catchy to its very core the song truly tugs at the heartstrings.
Continuing down a similar path is the urgent pop-punk perfection of PA SPiN's "Dig Your Own Grave". Vocals swim through the infectious rhythm with just the right celebratory spirit. The way the song burns through its runtime is downright incredible as is the carefully constructed hooks that adorn the piece.
Glistening jazz rhythms adorn the luxurious rich sound of Tasha Michelle's "Letter of Appreciation". With a honeyed choir adding to the overall scope of the piece, the song is one of thanks for those who have made their life better. Everything simply works from the multi-layered deep sound to the careful melody that ties the entire piece together.
By – beachsloth.com