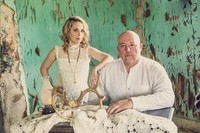 Strong and true, A Little Bit More's self-titled album represents the best of classic country and Americana. Everything simply works from the physicality of the drums to the emotionally charged guitar work that graces the sound. By far the soulful comes from the earnest vocals that tie the entire sound together. Lyrics have a determined quality to them whether it is to overcome any obstacle or to be devoted to another. Catchy to the core these are songs whose melodies and meaning stay in the heart long after they are over.
Things start up on a rollicking note with the passionate performance of "Get Up Crowd". With nimble guitar work and an expressive electric guitar, the piece is a pure joy. Much more laid back is the mellow work of "Good Habit". On "If Only For A Moment" A Little Bit More tap into a tender, sweet atmosphere with a gentle quality. Quite wonderful in nature is the contemplative message of "Are They Really Listening To My Songs". Folk permeates the fragile "Where I Am" where the song's deliberate pacing adds to the overall soothing sound. Sung with true earnestness is the ballad of "If You Were Mine" which is sung with just the right level of longing, as the spacious sound further emphasizes this feeling. Ending the album off on an energetic note is the spirited "Save Me Tonight".
https://www.alittlebitmoremusic.com
Crafted with true care, A Little Bit More offers a timeless tasteful sound with thoughtful, articulate lyrics leading the way.
By – beachsloth.com