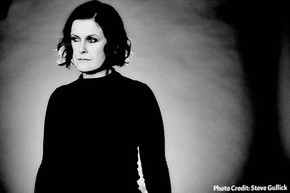 On June 16, 2017, Cooking Vinyl presents OTHER, the brand new album by pop legend and relentless explorer ALISON MOYET.
"For me, making a record at this age, lyrically, is a different proposition. Observation in most cases replaces emotion. The invisibility of middle/aged woman rather thrills me and instead I watch", explains Moyet.
"Subject matter covers what you might expect from a pop album. Dyslexia, locked-out syndrome, diversity, Persephone, doggedness and the Internet. Always asked what a song is about, I attempted to cooperate, but in truth though the lyrics incorporated my best attempt to describe what I see and of the meaning that is mine. I want, who chooses to, to find their own landscape or indeed none. Some of us have always felt 'Other'. I no longer wish it were otherwise."
Despite Alison's professing of age, the music bursts with clarity, vitality and freshness, whether in the zingy "Lover Go", chic laid-back soundtrack-style "The English U", "Beautiful Gun"'s nod to her rock and roll roots, the icy Germanic arpeggios of "Reassuring Pinches" or ambient, spoken-word poem "April 10th".
The hauntingly fragile and sparsely presented title track "Other", accompanied by a hypnotic video directed by Steve Gullick, is available as an instant track download when pre-ordering the album.