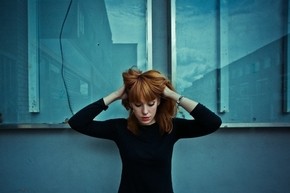 Laura Welsh today reveals a stunning video to accompany single 'Red'. Babysweet has directed this one take live performance. The original cut featured on her latest EP 'See Red' which was released at the end of 2016, through her own imprint TwentyTwoSeven Recordings / Republic of Music. The four-track EP includes lead single 'Red' alongside three as yet unheard songs 'Naïve', 'Concrete' and 'Numb'.
Pulsating and emotive, 'Red' finds Welsh on her finest form to date. Co-written with Fiona Bevan (Ed Sheeran), Jonas Wallin (Avicci) and Richard Frenneaux and produced by long-term collaborator Frenneaux the 'See Red EP' demonstrates the Staffordshire songwriter's undeniable vocal talents. Laura explains; "Red is a song about taking responsibility for fucking up. To admitting you are holding back and playing it stubborn… For being human."
Welsh released her debut album 'Soft Control' last year on Polydor Records in the UK and Island Records in the US. Featuring 'Hardest Part', her duet with John Legend, the album included the acclaimed singles 'Break The Fall', 'Cold Front', 'Unravel', and 'Ghosts'. Last summer she scored at Top 10 hit as the co-writer and vocalist on Gorgon City's massive summer anthem 'Here For You'. Laura's track 'Undiscovered' features on the Fifty Shades of Grey soundtrack. She returns this autumn with a new EP 'See Red'.