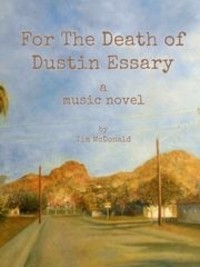 This is more than just another project for Tim McDonald; it is a real, heart-beating dream with a breath of fresh air.  This has been a long time coming and a labor of love for Tim going back to 2010 where the idea originated. McDonald is singer, songwriter and guitarist for the indie rock band Broken Poets, as well as founding member of the group, and it is the songs that helped fuel this music novel.  Back in February of 2010, Broken Poets had the wheels in motion when they recorded a 4-track EP that would serve as the precursor for the highly anticipated release of "For the Death of Dustin Essary".  The band is also made up of Svetlana Antropova, classically trained Russian pianist, keyboardist & vocalist and her outstanding artwork is the very first thing you notice looking at the cover of this book.  It is a wonderful oil painting on canvas titled "The Old Neighborhood" where she is able to capture the original setting perfectly.  This was the actual view from Tim's childhood home growing up in Phoenix, Arizona and Svetlana brings "The Old Neighborhood" back to life through her precise representation of this entire area.  You're instantly drawn into this place and time and taken there thanks to Svetlana's meticulous strokes of the brush and observant eye.
The original version was released as a digital copy only at www.amusicnovel.com and later included the book in print available for purchase on Amazon, (https://www.amazon.com/Death-Dustin-Essary-Music-Novel/dp/0692605231/ref=sr_1_1?s=books&ie=UTF8&qid=1461708697&sr=1-1&keywords=For+the+Death+of+Dustin+Essary//%22), so that readers/listeners could utilize & enjoy both mediums.  The music novel concept and idea was designed in such a way where Tim McDonald wanted individuals to fully immerse themselves with not just the words but the music and lyrics that go along with the novel.  The whole purpose was to not feel restricted to just reading the story but actually experience it through sight, feeling and sound.  I say mission accomplished as my senses were going wild taking in McDonald's poetic lyrics, catchy tunes and creative storytelling all at once.
For the fully loaded experience that Tim McDonald highly recommends, you will have to head straight to www.amusicnovel.com and become a member.  For the small price of $10 and an official membership to the site, one will receive unlimited access to the entire book, all of the music lyrics included AND 8 songs by Broken Poets that you can download at any time.  And good news; the Intro, Prologue and Part I are 100% free to read and even better you will also get 3 free tracks to download!  So that's a rock-solid offer by Tim McDonald giving readers/listeners a little taste of "For the Death of Dustin Essary" at no cost to you!  But if you decide you want the full-course meal well then a $10 paid membership to www.amusicnovel.com will unlock it all.
The three free downloads you can check out right now are titled: "So Be It", "To Dream of Another Life" and "Singularity".  "So Be It" is the newest installment written by Tim McDonald/Broken Poets but all three numbers prove that Tim is a dynamic artist.  All of the songs are infused with deeply personal notes that are all emotionally-charged.  Tim McDonald, without a shadow of a doubt, wears his heart chords on his musical sleeve when writing, singing and performing.  Careful precision and rooted clarity is heard loud and clear when listening to all eight tracks.  Tim has created songs and music that have a real voice, a real heartbeat and a real sense of life's highs and lows.
Now, let's talk about the language, storyline and characters behind "For the Death of Dustin Essary" that certainly draw you in.  Tim McDonald dubbed this music novel as autobiographical fiction but does assure his readers that most of it is true.  So first the language certainly exemplifies the likes of a teenage boy who is carefree, adventurous and a bit of a smart aleck.  That immature tone is strongly depicted by the character of Tim where teenage rebellion collides with boyhood innocence.   His best friend Dustin seemed to exhibit some of the same qualities as Tim or any other normal, teenage boy for that matter.  However, the summer of 1978 would bring about a whole new attitude and demeanor that would change their lives forever.
It was during this time that Dustin would start to have strange dreams that were vividly displayed in the book.  Neither Dustin nor Tim could make sense of these elaborate dreams that didn't seem to have any sort meaning to the two characters but in reality they were highly significant.  These dreams play a vital role in this story and honestly I would call the dreams themselves the main characters.  It would cause tension between the two buddies as Dustin would begin to freak out Tim with his constant descriptions and recollections of what he was picturing in his head while fast asleep.  Tim probably thought Dustin was going crazy but not at all as the dreams were bigger than both of them combined and bigger than life itself.  Whether you call it visions or messages from God or a higher power, Dustin definitely experienced something incredible & divine.
Later on Dustin would succumb to cancer during that summer giving validity and true meaning to all of those dreams and thoughts.  It would be these same dreams that would continue to haunt Tim as he felt guilty for not listening close and not being there for his best friend when Dustin confided in him his deepest and innermost feelings.  What I feel is that both Dustin and Tim couldn't truly grasp or fully understand the importance behind these dreams since they were just adolescent boys and still developing.  But I also feel that something or someone spoke to and reflected on the conscience of Dustin Essary during that summer of '78 and things would never be the same again.
Prepare to venture back in time to this scene of Teenage Daze and Awkward Confusion all through the eyes of Tim as he attempts to put the pieces of this puzzle together.  Enter this "Teenage Wasteland" of vivid dreams and real life that will leave the reader contemplating what was…what is…and what has yet to come.  I do believe that things happen for a reason and also that we are not supposed to have answers for everything in this life which is something the character Tim struggles with I feel.  In the end, Tim's answer and his release, if you will, comes in the shape of a book and musical note where not only is Tim honoring & remembering his best friend but also finally giving a voice and purpose to the dreams of Dustin Essary.
Through the healing power of music and words, Tim McDonald gives you much more than a music novel; he gives you his heart & soul in memory of his childhood friend Dustin.  So, this truly is "For The Death of Dustin Essary" as Tim McDonald brings his story to life through songs that captivate the mind, body and spirit and words that dance around in the clouds.  I say a job well-done to Tim McDonald and his strong efforts here proving that he's quite the lyricist and well on his way to becoming a masterful storyteller.  Don't forget to head over to www.amusicnovel.com to get the whole experience of "For The Death of Dustin Essary" and also be sure to check out the music video for the track "Idle Thought" by Broken Poets right here: https://www.youtube.com/watch?v=KThfGG8TCWk.
Lastly I just want to add that Tim McDonald is still very much a Poet and poetic in nature but would say Broken no more.
5 Skopes
By Jimmy Rae + (jrae2@att.net)