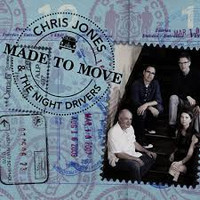 The sixth release from Chris Jones & The Night Drivers, Made to Move, continues this band's extraordinary run as purveyors of modern Americana as well as imaginative interpreters of traditional material. If this music form is destined to continue living, as myself and many others hope, then artistic units like Jones and The Night Drivers are required but for, perhaps, less than obvious reasons. The band's penchant for front-loading their releases with original material is a big part of their presentation. This isn't a musical configuration who believes Americana and acoustic based music is some staid art form. Instead, the twelve songs on Made to Move, ten originals, prove the continued vitality of the form. Jones and his collaborators are fully invested in the musical moment and their mastery of the genre's demands never renders them fixed or static.
URL: http://chrisjonesgrass.com/
The opener "All the Ways I'm Gone" has an appealingly spontaneous air and some strong bluesy influences courtesy of the recurring slide guitar. Jones delivers the deadpan lyric with an equal amount of dry humor and the instrumental breaks in the song act as a second vocalist. Despite the bare bones structure of this song, it has a fresh and sprightly bounce. There's a much stronger bluegrass influence on the song "I'm a Wanderer", but this is every bit as much of a singer/songwriter effort utilizing the language of Americana music in a vibrant and uniquely personal way. Jones' voice doesn't have enormous technical range, but he serves the material well by concentrating on getting the emotional import of each song over. Their stirring rendition of the traditional classic "Dark Hollow" stakes out a piece of this longtime favorite as their own thanks to their patient and thoughtful treatment of the song. They take this normally downbeat track and give it an improbably brighter cast while still adhering to the song's guiding impulse.
The song "Raindrops Fell" unwinds at a leisurely pace with some extraordinarily tasteful instrumental work and a slow drawl in Jones' vocal. This is very much a song of lost love, but instead of bathing in clichés, Jones and the Night Drivers explore this common theme with sensitivity and an ear for eliciting different responses from listeners. "Living Without" is steeped in bluegrass with its fiddle touch and banjo driven structure, but it will win over many converts thanks to its easy going confidence and the sweet swing of the performance. The song "Silent Goodbye" melds elements of folk with a strong bluegrass feel once again and sets it to a near-waltz tempo. Jones' voice makes great use of the time signature and it allows him a chance for stretching out his voice to pleasing effect. The gospel influenced "Sleeping Through the Storm" is one of the album's best songs, but the musical treatment is never too reverential. Instead, the jauntiness suggests the point of view of someone looking towards a better dawn. The gospel influence is particularly strong during the call and response structure of the chorus. Made to Move makes a single concession to novelty tunes with the playfully titled final song "What the Heck?!" – it's a vivid instrumental workout bristling with bluegrass fueled urgency that concludes the album on an upbeat note. Chris Jones & the Night Drivers have crafted a real winner with this album and it's sure to appeal to anyone who gives it a fair hearing.
9 out of 10 stars
I-TUNES: https://itunes.apple.com/us/album/made-to-move/id1181121364
Jason Hillenburg