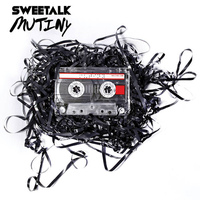 The second release from Green Bay based, Wisconsin three piece Sweetalk, Mutiny, is five track EP building well on the success of the band's 2015 debut full length Picturesque. Vocalist/guitarist Jamie Koebe, bassist Travis Grahn, and drummer Brian Boelter have discovered a spark in their songwriting and performance interplay promising to carry them higher than they ever suspected. These are wholly original tunes within an established tradition and their influences, rarely overtly visible, are so completely transformed by their personal experiences and carrying a signature touch in every bar. The production captures a raw and visceral sound that comes out romping from the first with swing, soul, and a clear vision of what they want to accomplish. Mutiny makes it apparent that this band wants to stay in this game for the long haul and they have their presentation tightly nailed down.
BANDCAMP: https://sweetalkband.bandcamp.com/album/mutiny
The powerful mid-tempo stride of "Ghosts & Flesh Wounds" is enough to bring listeners into the song because the players are locked in so tightly with what each other is doing. Boelter's drumming features practically metronomic timekeeping peppered with some extraordinarily ferocious fills and his rhythm section partner bassist Travis Grahn doubles Boelter's heavy groove. Koebe's vocals immediately grab attention and the lyrics are idiosyncratic enough to give the song a lot of freshness. "Anatomically Speaking" roars to life with some dissonant guitars and evens out some while maintaining that same jagged edge. The riff driving "Annie Maul" straight ahead gives the performance a strong romping quality. It comes in one warm blast after another, but Sweetalk wisely gives it even more significance thanks to the arrangement alternating between guitar heavy passages and moments carried by the rhythm section and vocals alone. The EP's longest track "Indecisions & Distractions" opens up with some subterranean bass working solo before the drums and guitars join in. This has a much more deliberate tempo than the preceding songs and there's a tangibly darker mood clinging to the song than the EP's earlier numbers
The conclusion "Fractions & Nosebleeds" takes an opposite approach to the preceding song with Koebe's delicate webbing of guitar weaving a glittering veneer over the cut. This is, arguably, the album's clearest example of alternative rock, but the style employed by Sweetalk isn't some kind of time capsule from the nineties. Koeble's vocal is his best on the EP and helps bring this release to a vivid close, but the dramatic musical arrangement and interplay between the band members is key. Sweetalk has come a long way in a short amount of time and there's substantive value in this brief release far outstripping full length releases from other bands. Mutiny's five songs have fantastic spirit and instrumental talent to burn, but the band knows when to take their foot off the gas pedal and approrpriately contrasts the arrangements. It will be quite intriguing to hear where this band goes from here because their potential seems rather boundless.
9 out of 10 stars
Purchase Link: https://itunes.apple.com/us/album/mutiny-ep/id1208683758
Jason Hillenburg