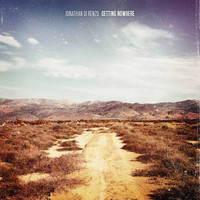 Neatly tying together folk, hard rock, country, with a psychedelic pop sheen is Jonathan Di Renzo's confident "Getting Nowhere". Highly articulate lyrics guide the way resulting in a series of songs that come together to create a great sprawling narrative. Jonathan Di Renzo's vocals are pristine showing off a wide range from commanding to comforting. Throughout it all it is the delicate arrangements that truly define the collection, helping to give further power to the overall performance.
https://jonathandirenzo.bandcamp.com/
Hushed at first "Desire" suddenly explodes in a fantastic blast of sound. From the tenderness of the origin to the crazed frantic tempos that define the sound, Jonathan Di Renzo employs a great sense of play throughout the piece, with riffing careening wildly. Slowing things down a little is the reflective comforting spirit of "Truth". With "Promises" the sound is stripped to the absolute essentials. A lovely folk arrangement emerges, with crystal clear acoustic guitar and expressive strings adding to the warm spirit that gives the song a welcoming glow. Indie rock influence flow through the passionately delivered "Stay". Laid-back with a Sunday morning casual cool is the soothing "Night Sun". Guitars burn through the chaotic sound of "Wasteland" delivered with true urgency. Such a full celebratory sound comes out of the sprawling "Whatever It's Coming" easily the highlight of the album. Bringing the entirety of the album together is the classic rock sound of "Home".
Beautiful colors and optimism pours out of Jonathan Di Renzo's poetic "Getting Nowhere".
By – beachsloth.com