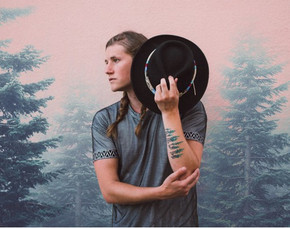 Today, Lostboycrow releases a romantic visualizer inspired by iconic scenes from various Romeo and Juliet films for his latest track, "Verona". Verona was the town that Romeo and Juliet were from, and this visual tells Lostboycrow's story through their eyes. The track was featured on Spotify's sought after New Music Friday playlist and is available on all DSPs.
Of the track, LBC proclaims "Verona is the meeting place of desire. Where any star that shines or sun that sets must only be for two. And the very obstacles ahead say there is everything to prove. Love is an adventure, running blindly in it's youth." It is worth noting that Verona is the setting of Shakespeare's Romeo and Juliet.
"Verona" follows LBC's buzzworthy single, "Stay a Little Longer". The track was featured on Spotify's New Music Friday, Indie Pop and Alternative R&B playlists.