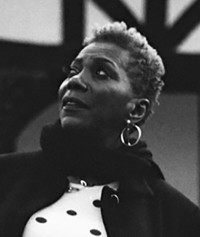 The latest release from Miami born, Los Angeles based jazz vocalist/songwriter Carmen Lundy, Code Noir, continues her recent spate of top notch collections with, arguably, her most complete work to date. Lundy's experience as an actress on Broadway stages and film further enhances her interpretative talents in the way she's able to so clearly embody the emotions and voices filling her songwriting and the dozen songs on Code Noir illustrate that skill better than ever before. It's the next peak in a musical journey that began at the age of six with her first piano lessons, but it's likely fate destined her to follow this path. Music is woven into her DNA. Her mother's tenure as lead singer in the gospel group The Apostolic Singers greatly inspired her and naturally developed into her pursuing music as a career after entering college and beyond. Her time at the University of Miami is where she first discovered her talents found their most vivid expression in the jazz genre. After working in Miami's jazz circles for a time, she relocated to New York City in 1978 and found great favor in the Big Apple's often rigorous jazz scene.
URL: http://carmenlundy.com/node/962
The opener "Another Chance" doesn't begin so much as coalesces into being. Lundy's voice has an oboe-ish quality with its hushed, lower-register grace. The tempo never really tethers itself to a particular instrument – instead, the track has a free-floating delicacy. There's a much more solid shape to the album's second track "Live Out Loud" and Lundy's vocal certainly occupies a much wider range than we hear in the opener. There's some light synth touches dropped into the song at key point, but much of it is instrumentally guided by percussion, piano, and compositionally minded guitar. "Black and Blues" is a much brassier number with propulsive, rhythmically challenging drumming. Her foray into socially conscious lyrics isn't heavy handed at all, but observational without judgment. She's assembled a first class backing band for these tracks and few songs better illustrate their talents.
"Afterglow" has an understated uptempo vibe and some more of the same artful drumming characterizing the album as a whole. Lundy's vocal is particularly effective here and the phrasing is truly a wonder to hear; she inserts her voice seamlessly into the rich groove and strikes all the right notes in contrast. There's an added bluesy emphasis, especially in the guitar, heard in the song "Second Sight" that makes it a bit of a departure from the majority of the songs on this album, but Lundy shows just as much confidence and ability working in this vein. "The Island, The Sea and You" is one of the album's more evocatively titled tracks and the music lives up to the song's billing. There's some light keyboard touches dueling with the percussion to begin things before it transforms into a jazzy quasi-shuffle replete with a vague Caribbean feel. The piano playing here is a definite musical highlight. "You Came Into My Life", is one of the album's most affectionate numbers and strikes a deeply felt note with more of the same top shelf backing that's accompanied Carmen Lundy from the beginning. Lundy might be a veteran performer and writer, but she sings with all of the inspiration and engagement one might expect from someone just embarking on their career.
9 out of 10 stars
FACEBOOK: https://www.facebook.com/carmenlundymusic
Jason Hillenburg