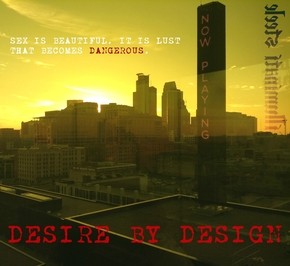 Synthwave messiah Illuminatè Steele, delivers latest video entry to the masses in her bittersweet tribute to Minneapolis purple royalty, Prince.
Illuminatè Steele releases her new video "Desire By Design (The God Complex)", showcasing her many talents as a longtime electronic producer, writer, video director and artist possessing a unique style and sound all her own. "Design By Design (The God Complex)" can be seen on Youtube.
Passionately expressing an obvious and heavily influenced ode to the "Minneapolis Sound" era created by such acts as Prince, The Revolution and The Time, Illuminatè surprisingly also adds her own spin on the synthwave genre, giving it a much funkier sound than most, while carefully staying true to the avant-garde synthwave sound started by such acts as Gary Numan, Severed Heads, Schgelfwelb, Goldfrapp and Ladytron.
https://www.facebook.com/Illuminati-Steele/
The very celebrated Kevin Shields of My Bloody Valentine once told Pitchfork magazine that "I'm a terrible bet when it comes to time". It seems that Illuminatè's timing is just right for the release of this new video. Prince fans to Front 242 and Ladytron followers will embellish their groove in the many different layers of goodness that Illuminatè Steele delivers with "Desire By Design (The God Complex)".
Her latest track oozes with a unique and hypnotic passion that lures the listener in, intriguing their curiosity just long enough to brand a catchy chorus in their mind, leaving listeners craving and wanting more. Illuminatè Steele will continue to appeal widely to the alluring city loner who dons themselves in black, as well as mainstream beat seekers jonesing for a fix on the darker side of the soundscape.
See her as a formidable opponent that has just descended upon the local music scene in order to lure it down the back alley's of the gritty, dirty, leather clad "alternative clubs" of yesteryear, but recognize the sheer beauty in the truth that the best is yet to come, and the time for Illuminatè Steele is now.
Currently, you can find the ever diverse Illuminatè working with fellow hip-hop Minneapolis native Tall Paul and Chicago's Hip Hop Drill Queen "Katie Got Bandz", as well as a host of other Midwest MCs coming together on the Illuminatè Steele produced track, "Manifest Destiny (No Justice, No Peace)", which is an ode to the Black Lives Matter (BLM)/ Stop the Violence/ Put Down the Guns Movement. The video for Desire By Design (The God Complex) is currently featured in Citypages.com's "Hot and Upcoming Local Acts You Should Know About."