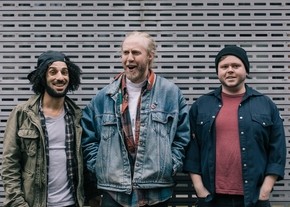 Astro Tan is a Psychedelic R&B three-piece out of Portland, OR. The trio hail from opposing corners of the continent; calling rural Pennsylvania, urban Seattle, and remote Alaska their homes, respectively. Perhaps their trans-continental allows for what is a genre-bending songbook that places foot in no strict stylistic camp. Primary songwriting responsibilities oscillate between Sam Wegman and Chris Burns (guitars and bass), complemented by an exacting drummer in Jed Overly.
Astro Tan is freshly attune to their creative ambitions, ostensibly due to a mélange of classic and contemporary influences. 'Soma', the freshman effort from the group, demonstrated a keen affinity for lush R&B, soft-jazz and psychedelia. Their new album, 'Canary', brings this to the next level with moody orchestral additions and visceral rock moments.
The self-produced and recorded group has extensive spring and summer plans to tour the western United States on the aforementioned catalog. Stream 'Canary' below.