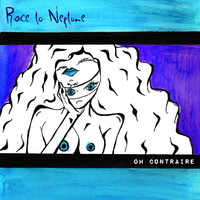 Sounding like a long-lost late 80s darkwave band, Race to Neptune's "Oh Contraire" is an absolute blast. Volume is a must for these are songs that deserve to be felt and heard. Best taken in a single sitting Race to Neptune conjures up images of Sonic Youth at the peak of their wonders. Quite beautiful the use of distortion, feedback, and hypnotic repetition results in something that feels vital, feels real. By choosing such a path Race to Neptune paint a world that revels in a blurred sort of beauty.
https://racetoneptune.bandcamp.com/album/oh-contraire-2
Things begin with the prickly work of "Wanderlilly". Imbued with a true sense of purpose the multi-layered approach taps into an unbridled sense of joy. Easily the highlight of the album is the ambitious sprawl of "Cigars and Celebrations". Energy pours out of the piece as it drives forth with great purpose. Dreamy guitar swirls radiate on the amazingly named "Bulletful of Piss". Despite the name, the way the song unfurls is rather blissful in scope showing off their ability to tie together solos with serene soundscapes. Offering a fully realized heavy sound is the inviting rhythm of "Iron Satire". Taking on a slightly summery vibe is the mellowed "Blue Skies So Burned". Downright crazed is the manic work of "Bayou Brew". Closing the album off on a high note is the gritty work of "Waterspout".
https://www.facebook.com/RaceToNeptune/
"Oh Contraire" is a powerful brilliant work showing off Race to Neptune's deft skill.
By – beachsloth.com