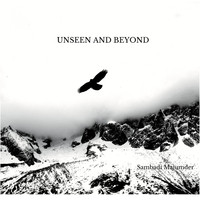 Sambadi Majumder's "Unseen and Beyond" is metal at its most malicious. Featuring astounding shredding and brutal percussion, the songs deserve to be blasted as loud as possible. The way that Sambadi Majumder lets the songs sprawl is quite compelling for these are pieces that are built up to become forces of nature. By bringing the many songs together what is created is a vast kaleidoscope with apocalyptic undertones. Layer upon layer of sound come together in a compelling balanced whole as the songs ebb and flow in darkly beautiful ways.
Audio: https://sambadimajumder.bandcamp.com/album/unseen-and-beyond
Things blast off with the maniacal "Following Bugs". Offering an eerie balance between the bombastic and the blissful, the song is a carefully painted portrait of sound. Guitars drone on with the ominous "No Respite". Presenting a slightly more hopeful work is the driving rhythm of "The Hidden Sunrise" where Sambadi Majumder lets the sky aim for the sky. With "Nomoshkar (Welcome)" Sambadi Majumder settles into a strange and infinity catchy groove that keeps the sound fully anchored. A no-wave rhythm defines the classic cool of "A funny and odd place" where the geometric feel of the sound is akin to the riffs folding into each other. Blistering through it is the distortion-laden "Valour". Easily the highlight of the entire album is the sprawling ambition of "The Hateful Arrow". On "Salvation" Sambadi Majumder pours out multiple rhythms and riffs in a chaotic way before ending the track on a reflective guitar gesture.
https://www.facebook.com/gruenbergerstrasse/
Passionate and perfect, Sambadi Majumder shows off his considerable chops on the dominating sound of "Unseen and Beyond".
By – beachsloth.com