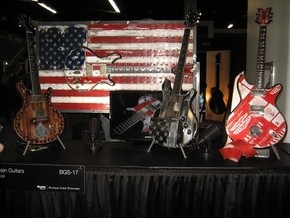 There were a lot of things I'll stamp "As Usual" here, except one. This is the first time I can remember monsoon rains and 60 degree weather in Anaheim, in January. As usual, most of the attendees were dressed in full rock regalia making it hard to distinguish the real celebrities from the crowd. As usual, everyone had a better stomp box, better guitar material (whether it was wood, composite, plastic, etc.), cleaner amp, dirtier amp, yada, yada. There were, as usual, as promised, a lot of new cool, neat, and must have product innovations. I was fascinated with the amount of high end custom guitar makers from around the world, other than the Pacific Rim. Countries like Iceland, Belgium, Germany, Spain, and Netherlands were well represented. Performers (stage, clinic) included Billy Bob Thornton, John Mayer, Ronnie Spector, Richie Sambora & Orianthi, Zakk Sabbath, Kings X, Bob Weir, Gene Cornish/Skunk Baxter/Bill Hudson ensemble, jazz guitarist Bernie Williams, The Hollywood Vampires (Johnny Depp, Alice Cooper and Joe Perry) jamming at the TEC awards. The TEC Awards honored Joe Perry, and producer/engineer Jack Douglas. As usual, there were a lot of private events featuring top musicians, and artists like Kenny Aronoff, Stones bassist Darryl Jones, and singer/producer extraordinaire Peter Asher, accepting awards, giving talks, jamming, and/or just wandering around looking at cool new stuff like the rest of us. There was the 20th Anniversary of the John Lennon Educational Tour Bus, and The She Rocks Awards whose honorees included Ronnie Spector, Lita Ford, and Shirley Manson. Robbie Robertson received the Music For Life award. NOTE: The usual reminder, check out the company websites and go try out the products live!
GUITARS
C.F. Martin & Co. – They are celebrating their 2 Millionth guitar by collaborating with RGM Watch Co. on a stunning one-of-a-kind model that will have a custom working RGM timepiece built into the headstock of the guitar. Martin and RGM will also collaborate on the limited edition D-200 Deluxe Collector's Model, limited to only 50 guitars. Each model will feature a beautiful watch theme throughout the design, including the pickguard which has pearl inlays of watch gears. The guitar will also come with a custom RGM watch. Really cool pieces!
D'Angelico New York – They have a nice selection of solid and semi-hollow body guitars. New signature models are the semi-hollow Premier Grateful Dead DC, the Bob Weir Premier SS, and the Kurt Rosenwinkle SS. These also come in jazzed up Deluxe models.
Milkman Sound – They have a lot of nice sounding, vintage Fender looking guitars and amps. Nice tweed Milkman!
Supro – Really cool new and improved colorful retro Americana Series guitars. Also a n ever expanding line of cool retro amps.
Guild – They are back now owned by Cordoba, and making guitars in the U.S. They are making the historically popular acoustics, and have also re-introduced the Starfire models and the retro T-Bird ST models.
Jersey Girl Guitars – A lot of cool takes on traditional styles. Boutiques styles combined with exotic woods.
Tao Guitars – The Brussels company had some really nice, space like takes on their pieces. Regardless of the construction materials, a lot of them give a glassy plastic and metal appearance. The designs are a marriage of guitars and 60's B-movie space ships!
McSwain Guitars (Pictured) – One of the most creative designers hitting the market. A lot of custom metal work, one American flag model that fits into a metal American flag wall display, and another made out of a metal gas can. He incorporates things like metal nuts as fret markers, screws, bullets, nuts, bolts, gear looking metal knobs, working car gauges, whatever you want. Wow!
Darryl Jones Guitars – The Stones bassman was at the Vemuram pedal booth with samples of his new signature guitar and bass line. The offerings are designed to closely simulate the playing and sound nuances of vintage Fender guitars.
AMPS
Paul Reed Smith – PRS had John Mayer explain and demonstrate his new signature J-MOD 100 amp along with his Super Eagle guitar, both hard at work on the Dead & Company tour. The amp uses five separate boards, and 4 x 12ax7/eECC83S preamp tubes, and 4 x 6L6 power tubes.
Marshall – They have a variety of vintage type small sized, small wattage units, that were appropriately displayed on a bookshelf.
KEYS
Alpha Pianos – You have to see this thing. The mPiano is an oblong black frame midi controller with 88 touch-sensitive keys, and a monitor/controller screen. The iOS App lets you configure real-time controller settings and touch sensitivity, in up to four split zones.
ACCESSORIES/EFFECTS
Waves – The Abbey Road Vinyl plug-in is a precise model of the original cutting and playback gear. Real life vinyl and turntable effects!
Ernie Ball – PARADIGM electric and acoustic strings come with a 90-day free replacement guarantee if the strings break or rust. PARADIGM strings feature superior break-resistance and unparalleled durability while delivering the iconic Slinky tone.
GTC – The REVPAD is a MIDI multi-effects touch pad unit easily attached to any guitar or bass, that includes both digital and analog effects. This allows freedom on stage and the ability to combine effects. The unique combinations of effects and parameters it allows gives many synthesizer-like tones as well as all the traditional guitar effects you would expect. You can also connect and control a particular effect through the effects loop.
Stylophone – This is a small portable take-along analog synthesizer. The S2 model offers improvements from the original 1968 unit.
OTHER
Delta Harp – We're talking about real harps, not harmonicas. For the string player that's mastered everything else strings, we're talking about a piece with a strap you can walk around with while playing, with a sophisticated bridge pickup system!
ISOVOX – A really cool fold up portable isolation booth for easy transporting and recording. Sound absorbing with removable viewing panels with mic mount.
Stage Ninja – The innovators in clamp on technology feature the PRO-REELS line of retractable mic and instrument cords, as well as new clamp-on units that will hold phones and small notebooks.
Rocking The Clock -Creator Dave Hurwitz designs and makes drums, guitars, and virtually anything into retro vintage clocks!
Rock-Tips – This is a liquid callous formula to protect string players fingers. Non-toxic, soap and water removal.
Option Knob- They make the VKnob that replaces guitar knobs, which is a small arm accessible with your pinkie finger, and the OKnob which replaces pedal knobs, accessible with your foot.
64 Audio – They have an array of in-ear monitors with the higher end units offering enhanced bass and up to 12 drivers in the A12. Newly added is the U18 Tzar which features 18 balanced armature drivers per ear!
Sparkular – They have the first indoor sparkler/fountain display machine that has adjustable sound and height and shoot times. Really cool!
https://www.namm.org/thenammshow/2017
By R.M. Engelman