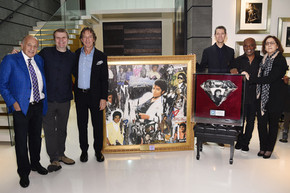 Michael Jackson's Thriller has become the first album in RIAA Gold & Platinum Program history to be certified 33x Diamond for United States sales and streams, it was announced by the Recording Industry of America (RIAA), the Estate of Michael Jackson, Epic Records and Legacy Recordings (the catalog division of Sony Music Entertainment). Thriller is still the ONLY album ever to have surpassed the RIAA's 30x million mark in U.S. sales.
"Thirty five years later, Michael Jackson's 'Thriller' remains as timeless and iconic as ever," said Cary Sherman, Chairman and CEO, Recording Industry Association of America (RIAA). "'Thriller' has now become the first and only album to achieve an RIAA 33X Diamond Award, a moment forever etched in Gold & Platinum Program history. Congratulations on another 'Thriller' milestone." The same day as Thriller's record-breaking certification, Michael Jackson's Bad has also achieved RIAA 10x Diamond Award status in recognition of United States sales and streams of 10 million units.
"Thriller":
https://www.youtube.com/watch?v=sOnqjkJTMaA
With sales now topping more than 105 million copies worldwide, Thriller has solidified its status as the best-selling album of all-time while Michael Jackson's overall worldwide record sales exceed the 1 billion threshold. During his extraordinary career, Michael Jackson released 13 No.1 singles and became one of only a handful of artists to be inducted twice into the Rock and Roll Hall of Fame. The Guinness Book of World Records recognized Jackson as the Most Successful Entertainer of All Time and Thriller as the World's Top-Selling Album of All Time. His artistry, choreography and music continue to inspire generations of pop, soul, R&B and hip-hop artists and fans.
Michael Jackson's 'Thriller' First Ever 30X Multi-Platinum RIAA Certification