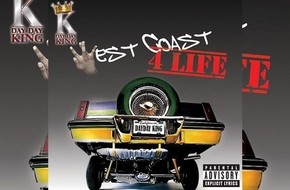 Samoan rap star, Dathan Lui widely known as Day Day King is the originator of the legendary West Coast Alliance Tour and former member of the Krook City Bloods. His July 29, 2016 hit single release, West Coast 4 Life charted for nearly three months into the first quarter of 2017 on DRT's Top 125
Independent and National 200 radio charts.
http://daydayking.uniscopedistribution.com/
The trunk banger was produced by Slick Million-Dollar Beats of Billionaire Brand Boys and mixed and mastered by award-nominated songwriter and certified sound specialist, Marlo Da Martian. The single distributed by Uniscope Distribution & Brand Services is currently available on hundreds of outlets around the world including iTunes, TIDAL, Amazon, Apple Music, and Spotify.
Get the hit single right now: http://apple.co/2aSADjd
Day Day King has released the video for West Coast 4 Life and is currently finalizing his follow-up release which will feature legendary melodic rap legend, Domino.