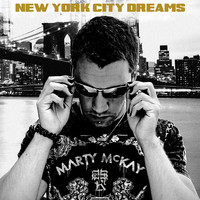 Marty McKay sings for all those searching for freedom and meaning on the celebratory spirit of "New York City Dreams". Downright glorious the songs are pure pop perfection. Volume reigns supreme for these songs are meant to be felt. Every song adds to the album's narrative, one that embodies the hope that many pin to New York City. Over the course of the album the heart and soul of the sound come from Marty McKay's finely crafted lyricism.
The album begins on a note of grandeur with the distortion laden rhythms of "Escape". Over the course of the song Marty McKay's vocals seem particularly vibrant ranging from sensitive to soaring. A more mellow tone defines the contemplative "Empire Town". Reflection on the world at large informs the poetic quality of "Out Of The Blue". Electro-pop influences emerge on "When The Lights Go Out". Easily the highlight of the album is the dance rock combination of "Into The Fire". Arrangements are perfect, the loveliness of the sound is undeniable. Ferocious in nature is the spirited rush of "Love Suicide". Intense to its very core is the bombastic heavy "Another Life" whose inclusion of industrial-edged textures add to the overall emotional impact of the piece. With "Until The Pain Is Gone" Marty McKay opts for a quiet thoughtful finale.
"New York City Dreams" is an album of defiance, of triumph against the odds, and Marty McKay delivers it with true style.
https://www.facebook.com/martymckaymusic
By – beachsloth.com