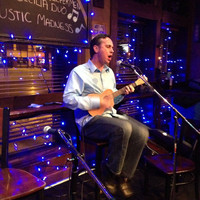 Sung with a sense of intimacy Mark Reitenga's "Unsung" rings with truth. Over the course of the collection Mark Reitenga touches upon relationships, passion, and social issues that have no easy answers. Arrangements possess a delicate nature to them with every nuance delivered with great vigor. By far the heart and soul of the songs rests within Mark Reitenga's confident expressive vocals. Lyrics show off a true flair for storytelling, with little details that add to the hue of each piece.
https://markreitenga.bandcamp.com/album/mark-reitenga-unsung
"The Detroit Blues" opens the collection off on a stripped down quiet note. Here Mark Reitenga's voice has an undeniable earnestness to it, with the acoustic arrangement adding to the overall power of the piece. Folk and country comes together on the optimism of "Are you Waiting". Rather beautiful, the song unfurls with clear purpose. Offering up a romantic yearning within the song it has a poetic quality to it, with the highly articulate lyrics placed front and center. Easily the highlight of the collection is the dazzling display of "Angels Watching Over Me". Hope bursts forth from the track as the song explores the concept of faith and the reassurance it brings. Ending the collection off on a rollicking note is the playful and bluesy "The Devil's Train". Quite perfect this ties everything together, further delving into the Americana spirit that informs the entirety of the collection.
Best taken in together as a fully formed whole, Mark Reitenga's "Unsung" has a rustic classic quality to it.
By – beachsloth.com