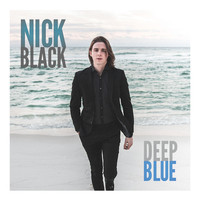 The second full length album from Nick Black, Deep Blue, is a ten song collection following up his 2012 debut The Soul Diaries. It combines the same incendiary guitar work, vocal excellence, and polished songwriting distinguishing the first album while exhibiting growing maturity. Delving into a longstanding musical genres like soul and blues music isn't usually a proving ground for creativity, but rare composers and performers like Black are able to key into the form with an approach combining reverence for the genre with a bracingly modern presentation producing fresh and invigorating performances. Black surrounds himself with a top shelf team of musical collaborators on Deep Blue who accompanied him during his 2016 regional touring schedule. One of those collaborators, band leader Victor Wainwright, shares production duties with Black on this release and their partnership bears considerable creative fruits.
URL: http://nickblackmusic.com/
The stylish "Ocean" is a memorable opener. The arrangement combines a plethora of compelling guitar textures, ranging from full on blasts of blues to a more clipped R&B style during the verse, with tastefully utilized horns. Black's vocals are equally varied – while some passages are grounded in a firm blues style, he shows an entertaining penchant for mixing things up with soulful peaks that never seem too ostentatious. "Grownups" is a bouncy, playful song with a more pronounced bluesy slant than the opener, but the soul and R&B influences never entirely recede. The horns don't have the same effects on this song that listeners here on the opener, but they contribute mightily to the song's overall color. The understated opening of "Falling in Life" underscores the quirky nature of Black's approach to traditional forms without ever venturing too far afield of the genre's base. It expands into something much more recognizable, closely adhering to R&B/soul tropes, with the same stylish sound defining it that distinguishes the album as a whole. The keyboard additions balance nicely against Black's guitar and the horns without ever skewing the track out of focus.
"Let's Be Glad" has the sort of positive uplift, both musically and lyrically, that longtime listeners will associate with older soul singers and bands but that's sadly a much tougher sell today. Black's toying with textures continues here with impressive results – there's some ballad-like touches with the fluid piano playing and the song takes a hard swing from its relatively spartan beginning into a much fuller, boisterous sound in full keeping with the album's sonic blueprint. "The Worst You Can Do" takes listeners on a thrillingly kaleidoscopic ride through a number of musical textures and brings these disparate, but ultimately unified, textures together without ever leaving the song sound disjointed. The acapella opening sets an immediate tone and the song never sacrifices that initial intimacy despite its following turns. The album's final cut, "All Over Again", begins life as a focused but nearly frantic R&B tune with jazzy inclinations, but Black isn't content pursuing those lines alone and the tempo and feel alike shift in the song's second half with impressive results. Nick Black has crafted an album that's, in turns, youthful yet tightly controlled and wildly ambitious. No cookie cutter, paint by numbers offerings here – everything on Deep Blue is set to stun and there's nary a track of filler to be found.
9 out of 10 stars.
ALLMUSIC: http://www.allmusic.com/album/deep-blue-mw0002871893
Jason Hillenburg