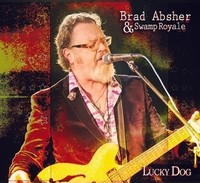 The recent release from Brad Absher & Swamp Royale, Lucky Dog, contains a dozen songs that bring listeners back to a style of music too many bands and performers treat with academic kid gloves. One of the keys to this music is that it plays and sounds lived in – if things are too studied or hit all of the expected marks at all of the expected times, the scant casual listeners and bar patrons will have to sustain your act. Absher and Swamp Royale have no such concerns. Their synthesis of blues, R&B, soul, and even a sprinkling of light funk sounds fresh despite its extensive backlog of influences. He's hit upon a unique stew of Texas and Big Easy influences cut with a strong dash of Delta blues soaking through everything like a late summer deluge. His guitar sound and vocals are the defining top line melodic elements, but they are joined by first class rhythm section work and added color from Hammond organ and horns.
URL: http://www.bradabsher.com/
"Woman Who Loves Me" is a great R&B love song that gets a perfect balance between dramatic rhythm and deeply soulful blues. Hammond organ provides colorful melodic underpinning lacing around the guitar work and Absher's vocal falls in all the right places. He and the band do an exceptional job of filling this song to the brim without it ever becoming too cluttered. He moves into a stricter blues vein on the song "Memphis on the Way". Some cynics might roll their eyes at yet another blues number referencing Memphis, but the astonishing thing about Absher and Swamp Royale is they are able to scoop up these popular tropes of the form and refurbish them with their chops and charisma into something that sounds shockingly fresh. The organ-spiked funky blues attack of "Trouble" gives Absher the platform from which he can unleash a deliciously gritty and musical vocal perfectly befitting the song's bounce. Swamp Royale's rhythm section has mastered the art of finding the pocket and milking it for all its worth, but the surrounding instrumentation weaves an equally potent spell without ever being lost in the sonic shuffle.
"Not Tonight" has a surprising slant that takes it in the direction of pure classic country ballardry while Absher and his band retain their signature style. The graceful and artfully arranged backing vocals accentuate Absher's vocals quite nicely. Originally recorded by the great Etta James, "I'd Rather Go Blind" is a standard in the genre and covered by countless artists, but Absher and Swamp Royale give it some saucy New Orleans chemistry while still keeping it close to its gutsy bluesy roots. "Same Love" recalls "Trouble" some with its sprightly R&B hop and the deep groove the rhythm section latches onto to make this work. Like the earlier song, Hammond organ plays an important role in filling out the song with color, but it isn't quite as prominent as the earlier song. "Wanna Be Your Man" is the album's penultimate song and a mid-tempo bluesy burner that doesn't tread on new thematic territory but invokes many of the genre's popular elements without ever lapsing into hamfisted imitation. The second half of the album runs a little longer and more deliberately than the first, but Lucky Dog is a success by any measure. Some might think it could have ran a couple of songs shorter, but nothing here is irredeemable or completely disposable.
8 out of 10 stars
CD BABY: http://www.cdbaby.com/cd/bradabsherswamproyale
Lydia Hillenburg