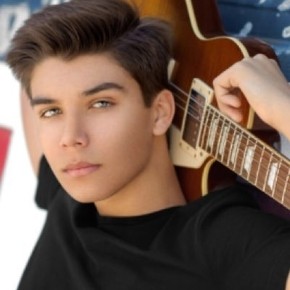 So we are kicking off 2017 with Tyler Colt. Tyler had an amazing 2016 and we see nothing stopping this talented & ambitious artist. Lets see what's up with Tyler Colt!
Where are we talking from today and how will you celebrate the holidays and New Years?
Nothing too extravagant, I've volunteered with MOC ( Musicians On Call) so I'll be visiting a few hospitals, playing music to patients.
It's a great way to help people heal through music. It's really empowering to be able to help those in need. It makes you feel good inside to be able to help & give back. Other than that, performing at a charity for Torrance Memorial Hospital Fundraiser. Looking forward to that as well, for my friend & teacher Monte Pittman will accompany me & my band on stage with his mad guitar skillz.
Would love to take a break and hit the ski lifts for some snowboarding since we're expected to get hit with a winter storm here in Los Angeles.
For New Years – just plan on spending it with some friends, nothing fancy just hanging out and appreciating good company along with reviewing 2016
What are you most promoting now in regards to a new single, tour, venture, etc?
Promoting my latest single "Come Home" along with the music video, which has almost 100K Views. Pretty stoked that my fans like the new superhero video that it has so many hits.
Currently finishing up another new single in the studio, which will hopefully release sometime at the end of January. I'll continue to perform at local joints & charities in Los Angeles and the Western Region of the US. I may be performing at a big Venue in April 2017, but it's still being worked out, so I can't disclose it quite yet. But that will be something to look forward to. It'll be the largest crowd I've ever performed for.
When you look back on 2016 what are you most proud of?
I'm proud to have had the privilege of playing on stage with some of the incredible talented Rock Gods, Vinny Appice, Paul Stanley, Don Felder, Robbie Crane and Monte Pittman to name a few. They are awe inspiring guys and so down to earth. We've lost too many musical greats this year such a tragedy.
Also happy that I put out 3 more singles with a more rock and roll / alternative vibe. It's really the direction I want to go with my music, so I'm really happy my fans like the new songs.
Looking forward to 2017 what are 2 music based goals you want to attain and how will you achieve that?
Well if I play this big venue in April it will be in front of thousands of people, that will be a new high for me. My Booking agent is working out the details, so that's in his hands. All I can do is continue to work on my skills/craft and get stronger & better at being a musician. Practice makes perfect, I'd like to achieve being the best I can be as an artist.
The other goal is to put out my first Album in 2017. I'm writing on the daily and some songs are coming together pretty strong. I just need to get back into the studio to put down the tracks. Focus an Keep my eye on the prize so to speak.
When it comes to consuming music do you most prefer buying or streaming and what sites/apps do you use?
I love music in all genres. When I consume I usually buy from iTunes or Amazon Music. Though sometimes I use Pandora or iHeartRadio app which I have a monthly subscription.
https://www.facebook.com/tylercoltmusic/
http://tylercolt.com/