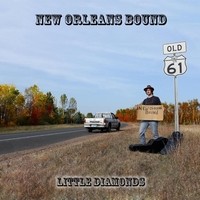 The sophomore album New Orleans Bound from Minnesota born Americana singer/songwriter Little Diamonds is a twelve song collection highlighting the young performer's facility with a variety of traditional forms and his capacity for lyrical invention. He wears his influences without any ambiguity, but Little Diamonds possesses enough artistic wherewithal that he's able to filter those influences through his own experiences to create something all his own. He utilizes the services of some top flight musical partners on this journey and shows an unabashed bravery for bringing instrumental voices to bear you might not otherwise expect. There isn't a single weak performance on the entire album, but a number of them are quite inspired and solidify the promise he demonstrated on his first release. This is timeless music in a modern setting that speaks with confidence and often poetic eloquence.
URL: http://littlediamondsmusicllc.com/
The amiable strum of acoustic guitar opens "I Don't Know About You" and it's apparent that the comparisons to John Prine inspired by his first album now carry less obvious weight. This is an intensely thoughtful song with a touch of melancholy in its arrangement and Diamonds' vocal. The lyrics turn on a number of comparisons and lightly charged word play, but it's the control that's most apparent there and in every other aspect of this performance. The album's second song "Never Met You at All" has much of the same easy grace characterizing the opener but the tone is far more humorous than before. He goes all out classic country with the song "12-12-12", complete with lonesome harmonica and exquisitely played steel guitar, and the results are deeply satisfying. This song has a much stronger identity than the first two and has a easy, well-carried confidence certain to win over many listeners. The lyrics are better here than both of the fine early songs and Diamonds wraps everything up with deliberate, yet very natural sounding, vocal phrasing.
Dylan's influence comes through more strongly on "Lord, Come Down" than any of the earlier numbers and the intimacy of the solo performance deepen the emotional impact of this relatively non-descript track. The songwriting takes a more overt personal turn with his song "Duluth Grandma". He gives the song an unexpected and likable spoken word introduction before his acoustic guitar starts. The largely acoustic thrust of this collection reaches a zenith of sorts here thanks to its ability to be personal and yet touching upon classic influences. The muted guitar work on "Mortified" forces the listener to focus more on Diamonds, his voice, and lyrical content. It results in noticing one of the best tracks on the album and an example of his individualistic songwriting style continuing to emerge from his work. The album's title track is a briskly paced band effort drawing on a variety of genres and using them all with an ear turned towards tastefulness. His vocal is pure country croon, but it's a good match for the shuffle tendencies of this song and the plaintive wail of the brass. Few albums this year are as full of finesse and feeling as New Orleans Bound and the collection represents the next step in the evolution of a promising songwriter.
9 out of 10 stars
AMAZON: https://www.amazon.com/Mortified/dp/B00FNYWZ6U
Jason Hillenburg