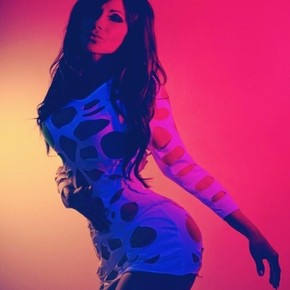 So here we are at the end of 2016 and we are heading into 2017. To be honest I am feeling really positive and excited for all the new music & technology we will be able to enjoy in the coming year. So I have the perfect guest to party in 2017 with, Delilah Latina Princess. We have so much to get to with this talented Latina beauty but first some music news. First up, Billboard once again named REPUBLIC RECORDS the music industry's "Top Label" on the publication's year-end charts. The label accomplishes the best overall performance across the Billboard 200 albums chart and Billboard Hot 100 songs chart combined. Also, according to Mediabase, at radio REPUBLIC also stands out as the #1 Label Overall with 17.9% chart share for the third straight year. Nearly 1-in-5 songs played on radio are under the company's umbrella with a grand total of 7,539,293 spins this year alone. In other news, Audials Music Rocket is now giving users the chance to enjoy free and legal music while taking a stance against illegal downloading. Audials Music Rocket also provides an alternative to traditional practices of buying and streaming music. With Audials Music Rocket, users can create and listen to their own custom playlists. Songs can be found by either using the search function or by browsing a database of 12 million hits. Audials Music Rocket also boasts a selection of 100,000 internet radio stations ranging across 120 genres – http://audials.com. So now lets get dressed right, head to the bar, and turn up the music as Delilah Latina Princess gets the party going. I have been hooked on her since watching the music video "Party Till We Drop." Lets head right into 2017 with a massive party and chat with Delilah on all topics from the holiday season, goals for 2017, staying sexy & healthy, and so much more!
Stoli: Where are we talking from today and are you excited for the holidays and New Years?
I am in Chicago, Illinois today. I am totally excited about the holidays and the New Year! My favorite time of Year is Thanksgiving through New Years Eve! I enjoy being with my family and catching up with everything that they are doing.
Stoli: What is a fond memory you have growing up and celebrating this time of year with family/friends?
The fond memories I had growing up and celebrating this time of year were enjoying time with my sister and my mom. Me and my sister grew up very poor. Ide get used toys. But I didn't care. They were always New to me!
Stoli: Being that we are headed into a new year, what are you most proud of doing in 2016 and what do you plan to accomplish in 2017?
Heading in to the New Year, I'm most proud of the responses that I've gotten on my music in my social media sites. From musicians, to Djs. I love that this year has brought me to do colaberations. People asking me to collaberate with them has been exciting and a new experience for me. In 2017, ide like to continue that, work with more artists. Have more various flavors to my songs. Also ide like to release a couple more music videos and also come out with an album. I have the title of the Album. I'm currently looking for a producer to produce the music for the song.
Stoli: How did you get the musical alias, Delilah Latina Princess and how does that name help express your sound and what you are about?
I got the name Delilah from the movie Samson and Delilah. I liked Delilah's dark hair. I thought she was beautiful and she wanted Samson. What girl wouldn't want a Samson? I was performing with a rapper friend of mine and he titled me the Latin Princess. I thought that was pretty cool so I stayed with it. When you hear Latina, you instantly know that there will be some Latin Fusion in my songs.
Stoli: At what age did you know that you had a special talent and you could make a career?
I always sang. But it never became clear till when I wrote my first song 4 years a ago. It was pretty cool and everything took off.
Stoli: You are incredible sexy. How do you stay in such amazing shape and can you offer others advice on being confident and living healthy?
I dance on a Latin dance team. That keeps me pretty fit. Also I eat very healthy I try to stay away from carbs, sugar, high fats foods. I eats veggies and a little chicken pretty much every day. I try to eat very little red meat. . You are what you eat. So you want to make sure that you eat healthy good foods that will continually make you healthy and that will make you feel great. If you work in a career that you love, it will continue to make happy and confident. I try to be around people that make me laugh or inspire me. Also people that know and respect me and my talents. Friends that are supportive of you boost your confidence!
Stoli: I love your song & video for, "Party Till We Drop." The whole theme looks like an awesome night. Offer is insight into the meaning behind the song and how the video represents that?
Party Till We Drop is about hanging out, partying and clubbing. It's about being with someone that you have chemistry with, partying and dancing. I was born in Miami Beach, I wanted this video to have the flavor of a hot, sexy Miami Beach Club Night. And that's what it is!
Stoli: When you are not working on your music, what other things do you like to do?
I like to salsa dance on my free time. It's fun and great cardio. I also love live Blues and Jazz. I do like to go to A local venue here in Chicago called The Elbo Room and watch the artists perform. I draw and paint acrylic paintings on my time off. I also enjoy being with with my Cuddle buddy, Tigresa. She's my Pitbull. She's almost 2 now. She loves when I sing and loves to dance with me. She is one of my loves besides my family.
Stoli: Being that you are a strong Latina woman, how do you feel about President Trump and will you atleast give him a chance?
Ooh, President Trump. I feel like when he talked about Mexican Immigrants, he pretty much said negative statements. Being a Latina, that hit me hard. There are many great Mexican people that immigrated from Mexico. And there are so many immigrants in this country. That's what make us America. My grandmother immigrated from Finland and my mother from Peru. Also, I do feel like he thinks less of woman. I can say much more but I'll keep it short. He will be president so I feel like I should give him a chance. I already have been reading about his ideas. What he wants to start with when he gets in to office.
Stoli: What is coming up for Delilah Latina Princess and where you @ online?
What's coming up is I will be releasing a House track, a remix, Bondage Music Video, performances, and another dance track to complete my album. I'm very excited for 2017! Besos!!!