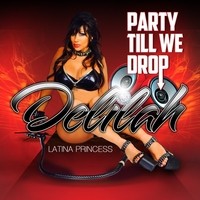 Delilah Latina Princess's "Party Till We Drop" is the sound of a wild rambunctious celebration that never stops. The sound deserves to be blasted at the loudest possible volume to truly appreciate its physicality. Effortlessly merging together electro, pop, and house into a satisfying whole the song truly resembles a force of nature. By balancing out all these impulses with a flirtatious approach the song has a truly decadent feel to it, one that grips the listener and invites them to the party.
Wasting no time whatsoever the song starts on a note of grandeur. The synthesizer stabs nicely embody the overall spirit of the piece. From the everything gets started as her lyrics grow ever larger in the mix. Offering up a particularly sweet EDM build up the song gets a freewheeling sort of style. Grooves and melody merge to become one. Pitch shifts help add to the rather lovely look at the physicality of being in the club. A sense of optimism for the night begins to take front and center. With this piece Delilah Latina Princess taps into a universality of experience, one where the language of house music brings so many together. Layer upon layer of sound are woven together to create a fully-fleshed out, fully-realized sound. For the song's finale a little bit of humor is infused into the structure as the song evaporates into the air.
"Party Till We Drop" shows off Delilah Latina Princess's passionate vocal performance and her YOLO attitude.
https://www.facebook.com/DelilahLatinPrincess/
By – beachsloth.com