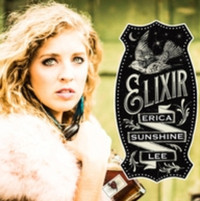 The seventh album from Erica Sunshine Lee, Elixir, is another scintillating entry in the Georgia-born singer/songwriter's growing catalog of Deep South musical achievements. The best thing about Lee as a performer and recording artist, oddly, isn't her intense identification with her heritage and regionalism – instead, it's that she can retain these important personal qualities while still writing and performing music that extends far past the confines of her autobiography. The fifteen songs on her latest album will win her new converts and strongly resonate with the growing fan base she's accumulated with each new release. She's equal parts playful, whip smart, introspective, sexual, and always intensely musical. She, likewise, has unerringly accurate instincts for how she wants her music produced – each of the songs on Elixir receives a thoroughly professional treatment that she and her collaborators make the most of. She's working harder than ever before, writing and recording while hitting upwards of three hundred live performances a year, and this nose to the grindstone approach is paying off handsome artistic dividends.
URL: https://www.ericasunshinelee.com/
The album's opener "Shut Up Heart" has a strong and brisk tempo that maintains a straight ahead charge from the start and never wavers. There's some rock and roll attitude in the lead guitar work, but Lee never slathers that element on too much and weigh down the track with histrionics. A little goes a long way. There's some predictable songwriting turns here, particularly in the lyrics, but you can hear that with two minds. How well does Lee pull off the genre's traditional subject matter and does she have the charisma to claim it as her own? The answer to both questions, based on the first song, is yes. The answer doesn't change on the song "Karma". This has a physical stomp setting a tone for the song, but it's the track's sole concession to rock on a song that firmly embraces traditional music. The acoustic guitar is recorded with fantastic clarity and her voice matches it down the line.
"My Favorite Word" continues to burn a very individual trail for Lee as both a performer and songwriter. It definitely maintains a close fidelity to classic country sounds, however, thanks to the lyrical steel guitar lines and its obvious understanding of the country ballad. Lee keeps things between the lines, as well, never allowing the song or performance to become too purple or overwrought. An obvious nod to the genre's past thanks to its title, Lee's storytelling skills get a surprising workout on the track "Whiskey Bent and Jail Bound" while still making for one of Elixir's most commercial moments. This is a little rough edged and has one foot in the rock and roll camp, but it seems ideally suited for a country radio station with an eye towards including traditional country artists on their broadcasts. "Briars to Ferns" is an elegant bit of songwriting with dramatic lyrical imagery and quite a measured, yet deeply emotive, vocal from Lee. It's another of the moments on Elixir when listeners get a vivid glimpse of the introspective artist behind these songs and packs a wallop.
The album's closing curtain comes with "Taking the High Road". This rollicking yet ultimately rousing track has Lee singing with every bit as much gusto on the album's final track that she musters for the opener. It's a final reminder of Lee's intensely individualistic streak and her talent for taking recognizable formulas and making them her own through the sheer dint of her personality. Elixir might be too long by a couple of songs, but it's another creative outpouring from one of modern country music's hardest working performers.
9 out of 10 stars.
CD BABY: https://www.cdbaby.com/Artist/EricaSunshineLee
Jason Hillenburg