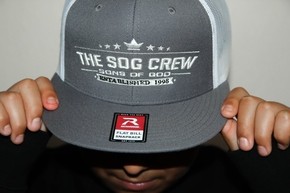 The S.O.G. Crew is proud to announce that they have released their new line of merchandise! "Time to focus on SOG Crew again. It's time to get back into the music, ministry and merchandising that God has called us to. For years our music and testimony of coming from the streets was what helped communities cope with the hard trials that life gives. We have been so focused on helping communities around the country that we have gotten away from making shirts, hoodies and the hats that these kids like. There is a high interest for our SOG Crew brand of clothing that we have now decided to put all our resources together to meet that demand in hopes of working with chain stores and retail outlets in the near future," stated Co-Founder Melissa Evans Ornelas.
Anaheim Hip Hop group The S.O.G. Crew (Sons of God) have been involved in the urban and rural communities of the United States since the late 90's with their Hip Hop style, deep lyrics, high quality sound and love for the people. When they are not rocking microphones you can find them on red carpets, movie sets, feeding homeless communities at the midnight hour, advocating on the streets against gang violence and running for the highest office in the land. Yes, that's right. Back in June of this year SOG Crew front man Dr. Robert "Battle Ax" Ornelas was selected to be on the Presidential Primary Election ballot in California. Ornelas was given the honor of being the Central Committee Chairman for the American Independent Party.
Check out S.O.G. Crew's latest album "Fighting For Love," distributed by Thump Records/ Universal Music Distribution. Music produced by Tito Rodriguez (Snoop Dogg) and Greg Leonti. Engineered by Geoff Gibbs (Michael Jackson, The Game) and mastered by Big Bottom Bob Lanzner (Bob Marley, The Who, Dr. Dre).
Be on the look out for new Kruzin Old School Radio out of Denver, CO featuring Battle Ax and Angel Barrientos from the Pinto Project. The KRUZIN Old School Radio, IRadio partner El Semanario – The Weekly Issue and the SOG Crew/Elite TV media partnership, have joined forces with Denver's new Pinto Project Life Skills and Job Training program. The partnership along with Victory Outreach Greater Denver and California affiliate Men of Promise Ministries maintain a deep commitment to the Denver community as well as communities on a regional level at a grass roots level. While they offer special IRadio programming comprised of a blend of Christian Old School and Classic Oldies, their primary goal in Supporting Denver's Pinto Project is to create avenues through the programming to communicate with parents and grandparents in Denver and Colorado Front Range communities in support of at risk members of the community as well as to maintain a dynamic forum of communication at the community grass roots level. Together they have combined resources to support a unique effort in the Pinto Project. The Pinto Project is being organized and established to help financially challenged single parents, qualified homeless veterans, and qualified "at risk" members of the Denver and Colorado Front Range communities.