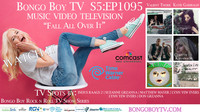 Bongo Boy Rock n Roll TV Show Presents Indie Music Videos From Around The World Season 5 Ep1095 FALL ALL OVER IT.
Valient Thorr starts the collection off on a powerful note. With a hard-rocking sound the piece moves forward with a driving rhythm. Full of energy the song's lyrics are delivered with a shouted sense of urgency.
A gentle sense of introspection dominates on the dazzling romantic leanings of Colette Kavanagh's "Last Kiss". Over the course of the piece her voice grows in confidence. The arrangement works wonders too as its rises with the song's energy.
Mellow and laid-back is the sunlit dusty grooves of Conceptz's "Backwards". Flows are tight as their delivery is pitch-perfect. A hypnotic sample leads the way. Layer upon layer of sound work together to create a kaleidoscopic, almost psychedelic mood.
With a hushed reverence for the world is the gentle spirit of Katie Garibaldi's "Delightful". Spacious and airy the song's chamber pop arrangement works to its utmost benefit. The warm, inviting sound has a sense of optimism embedded deep within the piece as it soars into the sky.
Playful to its core is the strangeness of "The Golfers Rap" by Ysanne ft. ZanZclan. A bizarre sense of humor ties the piece together. Quite beautiful in terms of how it brings rap and novelty pop together the song lingers in the mind long after it is over.
Delicate and tasteful is the gorgeous work of Spoken Life's "Reality". Stylistically Spoken Life brings together folk, rock, and classical into a satisfying whole. The heart of the song rests with the passionate vocal delivery which rises above the rest.
By Beach Sloth