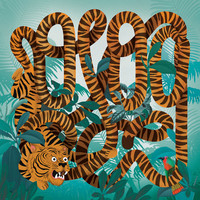 OSOG's self-titled album gives a big band feel to the intimacy of folk. Every sound positively shimmers with a sense of celebration. Vocals at times feel reminiscent of Modest Mouse's earlier work. Attention to detail means that everything is taken into account, from the levels of fidelity to how the band interacts. By taking on a sweeping cinematic approach the songs feel all-engrossing. Stylistically OSOG's work appears to be grounded in the folk tradition with oftentimes bluesy and swing-centered elements thrown in for good measure. What truly defines the album is the strong sense of play that periodically bursts forth from the songs, whether it is intricate wordplay or in the giddy arrangements.
Jazzy in tone is the album opener "Who Who". How they let the song unfurl is quite masterful as they create a rollicking rhythm to lead the way. Quite beautiful with its lo-fi open is the Americana of "Blame The Devil" with its lovely languid pace. A little bit of funk and folk enter into the powerful "Cookie Town" by far the highlight of the album. How it simply teems with energy feels like a kind of party simply stumbled into. Theatrical in nature is the loose rhythm of "Wanted". Delivered with a sense of urgency is the profound sound of "Big Rain". On the aptly named "Longsong" OSOG ends the entire album on an epic grandiose scale.
With their self-titled album OSOG create a sound that feels like an instant classic.
By Beach Sloth