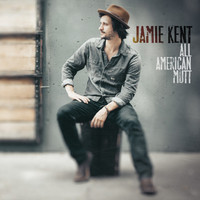 The third full length studio release from Jamie Kent is a major step forward in the development of one of the most promising talents working in the Americana/modern country. There's a tangible strain of rock and roll coloring a number of the tracks that owes much to artists like Tom Petty and Bruce Springsteen, but the predominant style heard on All American Mutt's ten tracks owes much to modern country artists like Chris Stapleton. There are certainly moments, however, scattered across this release that truly defy categorization and are best described as an attempt to achieve a new sort of synthesis in popular American music. The songs sparkle with passages of glittering wordplay that blend tropes, lightning strikes of originality, direct language, and moments of plain-spoken poetry.
URL: http://jamiekent.com/tour
The title track jolts listeners with its percolating bass line, but it soon settles into a more traditional groove when the song begins in earnest. Kent's hook-laden vocal melody underscores the lyric's unifying quality and the chorus is especially strong. It's a wonderful example of how intelligent songwriters can produce highly commercial material that rings true for them and never panders to the audience. The balanced mix of traditional instrumentation, including harmonica and banjo, contrasts quite well with the fleet-footed percussion and highly polished production. The album's first ballad "Look Up" succeeds for one reason if no other – it speaks to listeners with unfettered honesty. The melody is quite delicate and tinkles like quicksilver over the understated percussion.
"Last Call" is amiable, bouncy fun. If the title track takes clear aim at commerciality, this track takes an even tighter lock on that template. The rhythm section's assertive swing gives it genuine rock oomph and Kent's loose, confident vocal hits the mark. "Home Again" is one of the album's more remarkable achievements. Kent provides listeners with a nuanced character study from a returning veteran's point of view set to soft honkytonk backing. He wisely never overplays the natural drama of the lyric and the relaxed, yet slightly mournful, phrasing helps the lyric stand on its own. Kent strips away any commercial trappings for the opening of the song "Safe", but the band enters gradually. He does a fantastic job of peppering his material with a lot of small but significant touches that layer the music and this is, arguably, one of the album's best examples of that technique in action.
Kent has fun with the lighthearted rocker "Sheila" and teams with Huey Lewis and other members of the News for this track. He shows a lot of the easy-going charisma that's helped propel him into the national spotlight and this plays tailored as a sure crowd pleaser. "Embrace the Disaster" revisits the duet format that he appropriates with such success on the earlier "Red Rover" and ends the album with a song that's theatrical and quite artful without ever risking pretentiousness. Jamie Kent's latest album is poised to be the collection of material that pushes his career into hyperdrive – everything seems to be on another level this time out as if Kent has made some great advance in his songwriting. All-American Mutt is a resounding success.
9 out of 10 stars
TWITTER: https://twitter.com/jamieskent
Jason Hillenburg