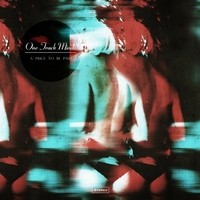 One Track Minds creates well-worn, lived-in sound on the welcoming spirit of "A price to be paid". Rather lush with their arrangements the songs possess a sense of reassurance. Hope is woven within the many pieces. A gentle mixture of Americana, indie rock, dream pop nicely tied together with a psychedelic hue the songs shimmer and shine. They chart a course through these lovely dazed displays. By eschewing fast paced tempos and going for the languid, the songs are full of emotional impact.
The album opens up with an efficient beat with the title track "A price to be paid". Lead by a ramshackle groove and expressive organ work, the song is a true joy. A country vibe dominates on the introspective sound of "River of life". Easily the highlight of the album is the pitch perfect pop of "She". Downright exquisite the song's sense of care is wonderful, as the many layers of sound result in an intricately detail and deeply profound piece. Rollicking spirit defines the spacious "Desolate soul". With true passion "Bad vibrations" rips through its sound with a sense of urgency. Stripping things down to the essentials is the hushed atmosphere of "Joanna". Closing the album off on a smooth, stylish note is the driving rhythm of "Closer" whose careful build is simply stunning.
Glorious, gorgeous, and warm One Track Minds paint a beautiful picture on the lovely vistas of "A price to be paid".
https://www.facebook.com/onetrackminds69
By Beach Sloth