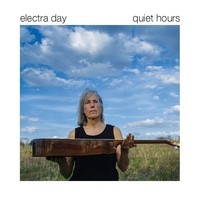 With a hushed reverence for the world, Electra Day's "Quiet Hours" represents the finest kind of folk. Electra Day opts for a naturalistic, poetic take on her articulate, highly thoughtful lyrics. Stripped down to the absolute essence of sound these songs have an autumnal quality to them, one that results in striking a perfect blend of honesty and intimacy. Best taken in as a whole the languid pace and thoughtful delivery works wonders in creating an entire aural universe, one that immerses the listener into a gentle wonderful view of the fully examined life.
The tone is set for much of the album with the soft spoken opener "Big Sky". Over the course of the song the way Electra Day's nimble guitar work effortlessly punctuates the power of her words. Following this piece is the dreamy hue of "Falcon's Gaze" where the delicate guitar work creates a glimmering, loose rhythm. Electra Day's voice is strong on the soothing message of "From Boulder to Oblivia". By far the highlight of the album is the heart and soul of "Ferry Song" whose sprawling ambitious arrangement is a blissful joy. Lovely and tender is the gradual bloom of "Romance of the Stars". Closing the album off on a high note is the sweet story of "Old Blind Couple".
Electra Day's "Quiet Hours" is an emotionally impactful album, one that feels in the same tradition as Vashti Bunyan's wonder with the world mixed with the tender calm that defined much of Nick Drake's illustrious output.
By Beach Sloth