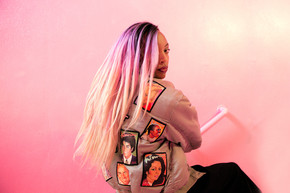 London-based singer-songwriter Gloria Adereti has revealed new single "Nobody's Watching", as well as a live rework of Henrik Schwarz and Omar's "Feeling You".
Produced by Cy Humphreys, "Nobody's Watching" is an infectious slice of soulful house that pays homage to the genre's popular 90s era, with Gloria's undeniable vocals taking centre stage. Speaking on the inspiration behind the track, Gloria says: "'Nobody's Watching' is a song about the end of a relationship. It's the fight between two lovers who claim they want to be together, but in reality the love is toxic. It's being on the frontline of a war between love and hate, pain and obsession."
The single aims to continue Gloria's ascent on the UK's electronica music scene following a string of recent collaborations with the likes of Richy Ahmed on "The Voyage" and "Put Me In A Trance", the latter being championed by BBC Radio 1. She also features on Diesler's "Birds & Bees" and producer Adam Curtain's latest track "Looking".