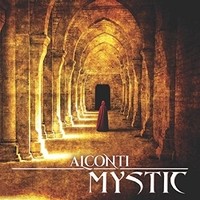 Al Conti's "Ritual" has a cinematic, tribal sound to it. Without saying a word, a journey emerges out of the combination of nimble percussion mixed with sweeping classically inclined ambience. By taking such a delicate approach to the piece Al Conti crafts a vast, all-encompassing sonic universe. The attention to detail is profound as everything simply works together to paint in lovely hues, an atmosphere that is nearly spiritual in tone. Hushed throughout much of the piece the reverence of the sound is rather captivating as is the exploration of texture.
http://www.alconti.net/mystic.html
Quiet at first Al Conti lets the spaciousness of the sound sync. Over the course of the piece a groove begins to form, one which is filled with a sense of urgency. The many elements of the piece come together quite deliberately. Every single layer of sound interacts to further emphasize the hope of the song. With each additional detail the song truly soars as it shifts from movement to movement. Pacing is the trick and Al Conti utilizes this with the utmost in precision. Stylistically Al Conti lets a vast array of genres into the mix refusing to be pigeonholed into any one of them. Through this careful action the song slowly but surely builds itself up into something to be admired. Fidelity is absolutely perfect as every single small flourish represents a great emotional pull to it.
Tasteful and timeless, Al Conti's "Ritual" is a radiant glimmering joy of a song.
https://www.facebook.com/AlContiMusic/
By Beach Sloth