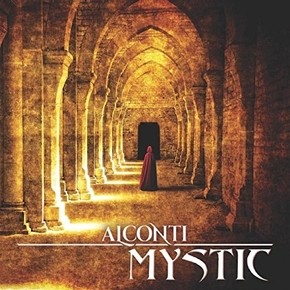 A new album by Grammy-nominee Al Conti holds the promise of transporting us to another place and time. With this artful, sweeping blend, Conti leads us to explore the eternal, while inspiring the mystic within us all to embrace our surroundings and live a conscious life.
Passionate, deeply personal, transformational…these are consistent aspects of GRAMMY®-nominee Al Conti's musical compositions and recordings. His latest contemporary new age album, MYSTIC, released worldwide on Friday, October 7th via Shadowside Music, offering lush instrumentals and an insightful view into the famously introverted artist's own mystic journey.
Ideal for creating a relaxing and meditative space, MYSTIC begins with the tolling of distant bells calling us to introspection, and melds the medieval sounds of chant, udu, hurdy gurdy, cittern, lutes, violins, lush electric guitars by Jeff Pearce, haunting harps by Pamela Copus (2002) and alluring ambient vocals from Charlee Brooks and The Oxford Court Monk Choir. There are nine tracks in all on this release, which is Conti's fifth album.
MYSTIC invites us to walk the path of the seeker through worldly soundscapes expertly crafted by Conti, whose Norse-God themed Northern Seas was nominated for a GRAMMY® Award. His popular albums Scheherazade and The Blue Rose conveyed ancient tales of the Middle East and China, respectively, but with MYSTIC, we more actively join in spiritual journeys to the world's most famous sites, with Conti's contemporary new age music laying the path. The well-travelled artist shares his personal insights about each song in the compelling liner notes of the artfully-designed 8-panel digipak.
http://www.alconti.net/mystic.html
Inspiration is an unpredictable thing, and the artist says that even before finishing The Blue Rose his muse was calling his awareness to the life of 12th Century mystic Hildegard von Bingen. While he originally thought the album would be about her life, they were soon "joined" by mystics from throughout history eager to share their stories through Conti's music. By the end of his four-year composing and producing process, there were songs connecting to the Oracle at Delphi, the pilgrimage of Santiago de Compostela, ancient rituals from the Temple of Diana, and more.
"The journey, not the arrival, became the focus," Conti said in a recent interview, commenting on his approach to writing and composing this album, somewhat mirroring the process of the mystics he honors with this music.
Fans of Conti's music appreciate that his albums offer an experience, a deeper look within a culture, and often a bit of romantic fantasy. While choosing the right world instruments for a new album is fun for Conti, high-quality musicianship, recording and production are vital. For MYSTIC, Conti invited a number of proven New Age music talents into the fold, including Pearce, Copus, Brooks and Associate Producer Ricky Kej (Raveolution Studios), who joined Conti in the journey.
Each of Conti's albums have their own, unique energy levels, including MYSTIC. Upon reviewing the album, Bill Binkelman (Wind & Wire, ZMR) commented, "Mystic is an album of sensual rhythms and romantic melodies, featuring an assortment of world music influences and brimming with ancient mystery, lush beauty, and infectious energy."
Recording artist Diane Arkenstone, says "Sweeping vistas of exotic places, defined through music, deeply move the soul. Each album Al creates embraces a whole new level of magnificence, and 'Mystic' transcends them all," and composer and recording artist Chris Spheeris adds "the production is immaculate: rich, clean, yet never overstated. There is a beautiful, sparkling, optimism to this music, an exotic world that resonates with mystery, warmth and innocence."
MYSTIC and all of Al Conti's music is available via his website, in select retail stores, and from online music stores like iTunes (http://smarturl.it/alconti_mystic) and Amazon (http://smarturl.it/mystic_amazon).
Track List
Mystic
Trance
Prayer
Visions
Pilgrimage
Contemplation
Ritual
Devotion
Anima Aeterna
http://www.AlConti.net
https://www.facebook.com/AlContiMusic/