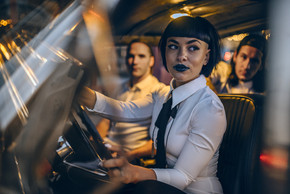 Alt-rock group VERIDIA has released a thrilling music video for their new single "Still Breathing." The video was directed by Matt DeLisi, the director behind their previous video for "Pretty Lies" and filmed at a haunted house located in the band's hometown of Nashville. The group is currently on tour with Evanescence and at work on an upcoming 2017 full-length.
"Still Breathing" shares the important message of dealing with fear, something frontwoman Deena Jakoub's deals with on personal level and is portrayed in the music video.
"I don't write because I have all the answers or because I want everyone to think I'm in this really good place," says Jakoub. "In fact, I am struggling, I am still healing, I am human. 'Still Breathing' was written to say, I feel you, we're all struggling through something, and though there are some things we may solely have to endure on our own, we don't have to process it alone.