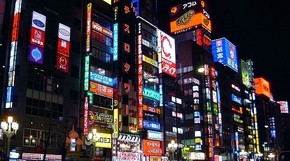 July saw seasoned Tokyo-ites escaping the oppressive heat of summer for an altogether cooler, more chilled out setting at Fuji Rock Festival in Niigata. After a rocky few years, this years line up was a welcome return to form. Although the festival remains dominated by big name foreign artists, the Joe Strummer foundation sponsored, Rookie a go-go stage has gone from strength to strength. It gives local bands a chance to showcase their music and provides a welcome relief from mainstream artist posturing.
A few bands to check out from this years line up:
Yahyel
Friday headliners Yahyel formed in March 2015. The electronic trio released their first e.p `Y` online in 2015.
In January of this year they embarked on a short tour of the UK and France at notable venues such as at cult label Rough Trade Records in London to rave reviews.
In February 2016 , they released a double A-side single "Fool / Midnight Run" on the Hot Buttered Record label. Designer Yohji Yamamoto used `Midnight Run` in the promotion video for his "s'yte" range.
Their sound, with its notable bluesy vocal features, is often described as being influenced by genres spanning from post-dubstep to chill wave and the LA beat scene. Yahyel have continued to draw critical acclaim from several Japanese media. They have performed numerous gigs across Japan and supported Homeshake, former Mac DeMarco guitarist Peter Sagar's solo project.
Their set was one of the highlights of the entire weekend.
Listen to: Joseph
https://www.youtube.com/watch?v=RPHHmeJ07j8
HP: http://yahyel2015.com
Facebook:https://www.facebook.com/yahyelmusic
Gi Gi Giraffe
Tokyo bedroom band GiGi Giraffe were founded during a spring break from school. They released their first EP `Homemade Works` in August 2015 for free download on Tanukineirirecords. It was composed entirely by Frontman Keiyuu Yamamoto using only garageband.
http://tanukineirirecords.bandcamp.com/album/home-made-works
They began performing on the live house circuit in Tokyo in 2012.
Their live show continues to be honed but on record they are doing some interesting things and are well worth a listen.
This autumn they will release the first mini album.
Listen to: Naked Girl
https://www.youtube.com/watch?v=8gr76_lGndM
Twitter:https://twitter.com/gigigiraffeband
Soundcloud: https://soundcloud.com/gi-gi-giraffe/rush-to-pay
The Taupe
Another band well worthy of your time is four piece The Taupe. They released their first e.p in February「ダークではありません」and quickly followed that with their first mini album 「バンドではありません」 a few months later which sold out.
Borrowing heavily from the post punk new wave alternative sound, they describe themselves as not a band but a "spectre". Joy division for the millennials they are not. They are a band to watch.
Listen to: Fiction
https://www.youtube.com/watch?v=nXKNGeXBjz4
HP: http://rcrnq890.wixsite.com/taupe
Facebook: https://www.facebook.com/the.taupe7/?fref=nfh
Staff writer: Zoe Johns
Apryl Peredo, MBA – http://twitter.com/#!/interidoru