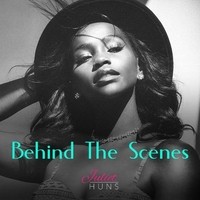 The debut release from Juliet Huns, Behind the Scenes, is a three song EP introducing Huns' talents to the music listening public in an ideal fashion. There's a broad based approach characterizing these three songs that prevents labeling them as just one thing. This is pop music, but it's a cut above the usual four minute entertainment foisted on listeners. This is the work of a serious songwriter, but it never neglects its need to entertain listeners. It compels its audience to accept it on its own merits and the release's quality is so uniformly high that it shouldn't prove to be much of a challenge. This Kenyan born singer and songwriter has higher peaks waiting in her future, but this is the first important summit in her climb and Huns will impress anyone willing to listen.
URL: http://www.juliethuns.com/
The first song "Realized" doesn't take off immediately. Huns' first song indulges in a little scene setting before kicking things off in earnest. The song bounces from the outset with bright synthesizer lines and a consistent pulse. Huns modulates her vocal approach quite well. Some technically gifted singers, unfortunately, aren't able to translate their talents into popular song – every line sounds as spectacularly soulless as the last when they're singing everything the same way. There are no such problems with Huns' performance, however. Huns clearly pays close attention to the lyrics and tailors her vocal accordingly. This tastefulness and superior phrasing invests the lyrical content with added dramatic value. The lyrics here and on the other two tracks will surprise some listeners. Huns never weighs any of the three songs down with unnecessary verbiage, but "Realized" has an appealing turn of phrase that nevertheless stays accessible throughout.
The staccato notes and vocal opening "Gone" captures your immediate attention. There's less grit in Huns' voice on this song and, instead, we hear a new found warmth and youthful enthusiasm subtly different from her voice on the opening song. It gains a lot of power when the full arrangement kicks in and the overall urgency is spiked by brief passages of distorted guitar with a strong rock edge. Huns proves her voice can make a home with any sort of material and meets all the song's demands while remaining quite credible. The EP's final cut, "Red Line", has a similar thrust in some respects. There is no flirtation with rock music, but Huns again intersperses a lean synthesizer melody against full-on band and electronic rave ups. Her voice takes on another level of stirring emotion – Huns has a great song here to close out her debut, but she sings it like someone intent on making an excellent final impression on listeners.
Natural talent like this cannot be taught. Huns has been singing with this sort of innate skill since her early teens and the truly remarkable thing is that she isn't yet close to reaching her full maturity as a vocalist. The best one can hope for is that talents on the level of Huns are served well by collaborators and creative partners capable of helping them realize their vision. Behind the Scenes is a fully realized effort from first note to last.
9 out of 10 stars
INSTAGRAM: https://www.instagram.com/Juliet_Huns/
Lydia Hillenburg