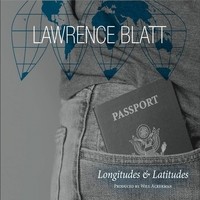 Sophisticated, tasteful, and with a true sense of style Lawrence Blatt's "Longitudes & Latitudes" is an unbridled joy. Optimism fills each and every piece as they come together to create a rich tapestry of sound. The sunniness of the sound is undeniable as Lawrence Blatt effortlessly brings together of New Age, Smooth Jazz, Bossa Nova, and ambient into a satisfying whole. By opting for such a wide variety of genres into a cohesive whole the lush sound can be explored in full.
The sprightly sound of "Two Shades of Sunshine" open the album off on a strong note. Following that is the leisurely, laid-back tempo of the title track "Longitudes & Latitudes" which reveals a sly sense of play. Naturalistic in hue is the stripped down approach of "Open Fields and Running Water" whose percussive elements work wonders. Saxophone steals the show on the expressive "Two Steps Down the Line". Contemplative in tone is the mellow vibes of "Upon Griffy Lake" one of the highlights of the album. Delicately delivered "The Places Left Behind" has a reflective, low-key feeling to it. Easily the centerpiece of the album is the urbane approach of "Park Lane". Celebratory in its jaunty rhythm is the lovely "Flying over Ellis Island". Bringing the album to a wonderful close is the nimble and tender guitar work of "Over the Rainbow" with an intimate sound that feels quite reassuring.
"Longitudes & Latitudes" displays Lawrence Blatt's deft skill and impeccable arrangements.
By Beach Sloth