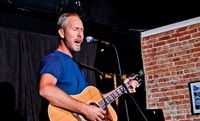 Troy Lindsey has a wandering soul and the journeys can be heard in the lyrics of his songs. He wears his life on his sleeves with his latest single, One Drop. He paints articulate pictures through the words of his songs. Hard times, long roads and living life to the fullest, shape each song, creating tiny 4 minute movie.
Audio: https://od.lk/s/Nl83ODAxNTA5M18/One%20Drop.mp3
His vocals, are strong and authoritative. He sings with raw emotion and takes you into a world of intrigue. Once you have slipped into his spiral of intensity you are quickly taken to the moment; wrapped in a blanket of mystery. His story unfolds with convicted retrospection that sets a tone of longing and reconciliation.
The music comes in like an enigma creating a silent foreboding that starts in your core and works its way to your head. The tension taps into each of your senses alluding to the mystic presage. The intensity builds as the story unfolds leaving you with an intuitive insight on the trouble lurking.
Troy Lindsey is a traditionalist country singer with the outlaw appeal that makes the good girls swoon for the bad boys. The song One Drop, is hardcore rebellion with a liberating breath of freedom; free to throw caution to the wind and live without prejudice. A true cowboy writing about the world through his eyes.
I rate this 4 out of 5
http://troylindsey.com/music-player
By Rebecca Hosking – hoskingrebecca@gmail.com