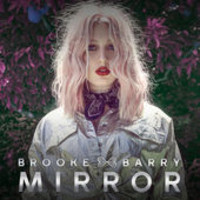 Brooke Barry creates a beautiful ballad with "Mirror". Over the course of the song her voice soars majestically. The arrangement is pitch-passion and delivered with the utmost of passion. Sung with a hint of poetry the song's colorful imagery works wonders in creating a dreamy sensibility. How the song builds up is quite elegant indeed as it employs a great sense of pacing. Instrumentally the song feels quite rich as it grows into a lush, luxurious atmosphere one that knows no limits. Elements of classical, folk, and country are nicely tied together into a kaleidoscopic whole, one whose comforting spirit is quite welcoming.
For the opening Brooke Barry does a fantastic job in setting the tone of the piece. Her voice leads the way as the song increases its scope. Guitar serves as her only additional accompaniment. Slowly and gradually additional layers of sound flutter into the mix. Rhythms are leisurely at first nicely embodying the hazy introspective vibe that defines the first half of the mix. With every additional word Brooke Barry lets the song discover new paths, as the song grows in terms of scope. Eventually the piece gains a cinematic quality to it as it builds itself into a true force of nature. By the very last moments Brooke Barry lets the piece simply drift away, as everything is stripped but her strong emotive voice.
Lovely in nature Brooke Barry's "Mirror" is a joyful triumph representing the best of pop music's potential.
By Beach Sloth